The season is here! I would say the wait is over, but there wasn't much of a wait this year. With the FA Cup final on August 1st and the Community Shield on August 29th, a friendly against MK Dons, and a week of international matches, the football hasn't really ever felt like it stopped.
There may be some degree of match fitness that needs to be regained for a few players, like Gabriel who hasn't played since March, but overall, players should feel ready. What that will mean for fatigue 3/4 of the way through the year may be a different problem, but that's future-Arteta's problem.
Arsenal kick off the year against newly-promoted Fulham in the opening match of the whole Premier League. Personally, I don't mind the early match for this game – less time for me to be anxious about the start – having it be against Fulham feels like a decent way to start. Fulham will be coursing with the adrenaline of a Premier League return, but with no fans in the stadium and them being new to the league it hardly feels like the most difficult opening match.
Fulham is coming off a season that saw them finish fourth in the EFL Championship with 23 wins, 12 draws, and 11 losses putting them into the playoffs where they beat Cardiff City and then a nail bitter of a final against Brentford. It's fair to believe that the players will be full of confidence in the way they play.
"I think the team is a good reflection of the coach. He's a very thorough person with a very committed team with a very clear way of playing" Arteta said. "He's done a fantastic job at Fulham, the way they managed to get promoted last season was really good. We have been watching them, we know it's a very typical stadium, really tight. It will be tough tomorrow, for sure."
When it comes to matchups against Fulham, Arsenal have faired exceptionally well. In the 2018-19 season, Fulham's last PL campaign, Arsenal outscored Fulham 9-1 over the two legs (4-1, 5-1) and have won the last 5 outings. It's a streak that Arsenal will want to continue today to help get Arteta's first complete season off to the races.
Not only will this be the opening of Arteta's clean-canvas of a season, it will be his first official match as the official "Manager" instead of head coach. Arteta of course doesn't see much difference in saying, "My title has changed a little bit but I'm just here to try and do my job as well as possible. It is always nice to be recognised from the club for the job that I try to do but I just want to help the club to do the right things."
"I just want to make this club more successful in this country as quickly as possible and in a sustainable way. That's my ambition. It's our ambition and we have to do it together."
It's a noble task, and one every one supporting Arsenals wants as well, but it took an early hit when David Luiz became a late scratch from the lineup with a neck injury. While it's clear Luiz was set to play a role in the opening match, it is unclear if his absence will have forced a change to the formation.
It's well known that Arteta would prefer to line up with a more attacking, 4-back system, but the late-season success of a few months ago was found within a fluid 3-4-3 system that allowed Arsenal to protect their backline, while funneling their attack into the wings where their more dangerous players can exert a large influence. With Luiz out, Arsenal's most veteran defender, and Arsenal not yet having completed the midfield overhaul that many were hoping would happen during the early part of the transfer window, the 3-4-3 seems like the safest bet.
"We have a few issues around the squad" Arteta said when asked about Luiz's injury. "That's something normal that we have to try to adapt to. We've been trying with the players that we have fit at the moment. It's not an ideal to start the season with some key players out but again, we have enough really good players and tomorrow we will have the best possible plan to try and win our first game."
What that leaves Arsenal's backline with is likely something along these lines. Rob Holding would replace Luiz in the center, Tierney would offer his impressive defensive abilities to the left while maintaining the chemistry Arsenal's left side has developed over the course of last year, and William Saliba would be thrust into action on the right where he played very well against MK Dons.
Many may be wondering why we won't see a Tierney-Gabriel-Holding-Saliba-Niles backline. Obviously that isn't out of the question. Arteta is a very practical coach that will put out whatever lineup he thinks puts the best team at his disposal on the field and in a position to win, but Gabriel's time with the team as well as match fitness needs to be called into question. He hasn't played a competitive match since March and even Saliba has had a fair amount more time within the walls of Arsenal in comparison.
When asked about Willian and Gabriel appearing in the match, Arteta was pretty transparent, although he didn't say much we weren't already aware of. "They have been training really well. They have adapted quickly. They are really excited to be here with us, really good energy from both of them. Big talent, both in very different phases of their career. One is already very established in the Premier League with incredible quality. And another one that has to adapt to this league but has huge potential to become a key player for us in the future."
Reading between the lines, it feels to me as though Gabriel is succeeding and validating to Arteta why Arsenal had interest in him, but throwing him into a match like this right off the bat seems premature.
There is no doubt that Arsenal will have some heightened expectations this season after the success they showed toward the end of the year. Add to that more time with Arteta and the opportunity to purchase within a transfer window. How well they use that window could be up to debate in a few weeks, but it won't alleviate the pressure of making positive strides forward. In my predictions for the season, I said Arsenal will get 68 points on the season and it starts today!
Predicted Lineup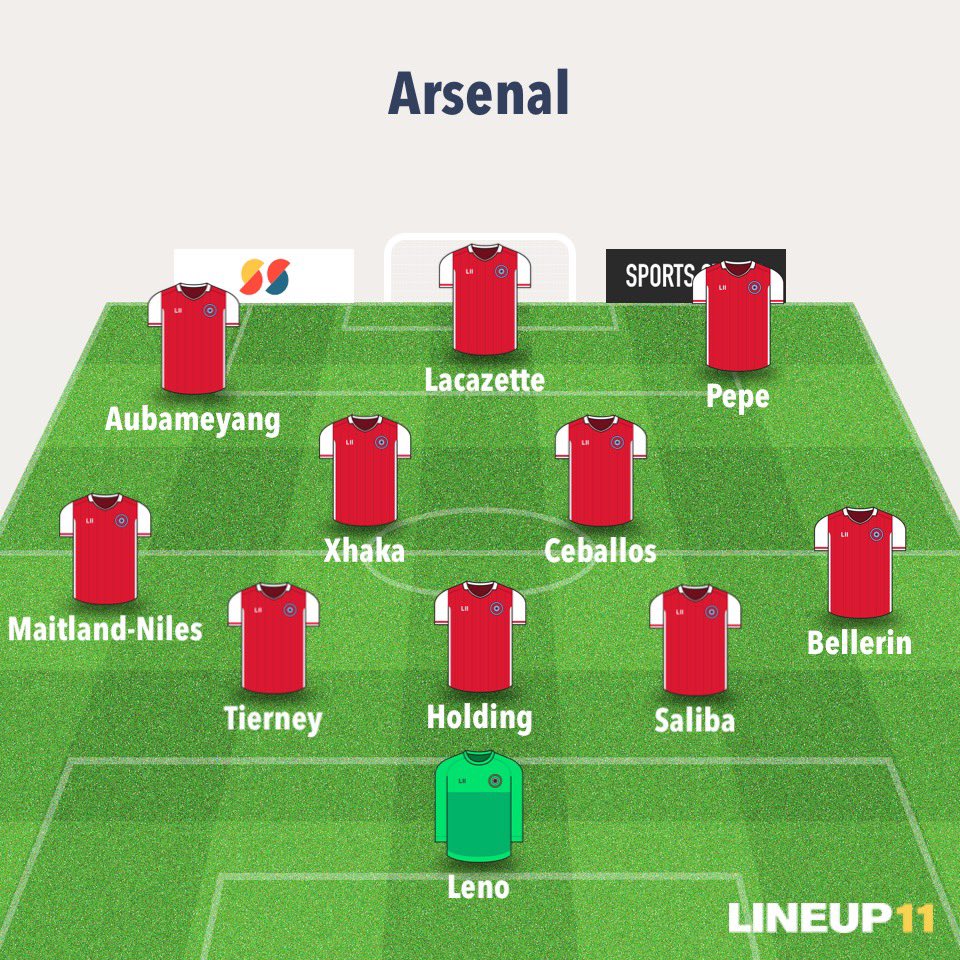 We received confirmation that Emi Martinez will not be traveling with the team meaning it will be Leno in net. I believe that we will see the 3-4-3, although I understand where people would want us to put a third midfielder into a game where Arsenal will want to spend most the match on the ball.
Big questions for me:
Bellerin is also linked with a move away, would that see Maitland-Niles slide over to the right wingback role
If Maitland-Niles is moved to the right wingback spot, could that allow Arteta to put a more attacking player in Saka on the left
The lineup above doesn't involve Willian, if we see him as a starter or a sub, what does that role look like
Can Ceballos expand and elevate his involvement in the midfield this year after having found himself a bit during the restart?
Score Prediction:
Arsenal win 2-0
Leave me a comment on the article, on social media, or if you liked the piece – subscribe to get notifications whenever I publish pieces.