When Arteta and company dialed up the plan and pictured the type of game they wanted for their season opener, it's hard to imagine it looked much different than what we saw. Besides the opening three to five minutes, Arsenal were in control of the game. Fulham managed an okay amount possession, especially in the first half, but created very little of anything with it. It's a testament to Arsenal's defenders and the responsible play from Xhaka and Elneny in the midfield to deny Fulham time and space.
I am sure there are people who will complain about the lack of an abundance of chances which is fair, to an extent, but when you put 3 goals on the board at all the right times, you often award yourself a good degree of comfort with the final results. Arsenal scored goals in the 8th minute, 49th minute, and 57th which is almost picturesque timing – aside from finishing it all off with 3 goals in the first half.
To stroll into an away ground, even if it's Fulham who were just promoted, and score early in the first half, early in the second half, and then kill things off with a third goal shortly after is the dream scenario. To make it better, Arsenal will be incredibly pleased with the way the goals came.
To open the scoring, Elneny played a lovely ball to Aubameyang who had slid a bit more central and was hanging off the inside shoulder of Fulham's center back. We will talk about why he was there a little later because it was something new from Arteta. From Elneny's ball, Aubameyang got on the end of it with space, facing up a 1-on-1. He slotted a ball to Xhaka at the top of the box who had a one touch shot that was blocked. Off the block, Fulham unable to clear their lines, it all turned into a goalmouth scramble that saw Willian's followup shot blocked by the goalkeeper who couldn't hang on and Lacazette cleaned up the mess from pointblank range.
Having a ball from the midfield, a shot from a different midfielder, and then finally tucked away by Lacazette, someone who will hopefully benefit mentally from an early goal, is fantastic.
Arsenal's second goal came from a corner kick. From debutant to debutant, Willian played a ball right onto the top of the six. With too much congestion in the box, Fulham's keeper was rendered helpless and Gabriel was too much in the air to handle. Set pieces were a thorn in Arsenal's side last season, hence the hiring of Andreas Georgson. Getting off the mark with a goal while also handling defensive set pieces is a great start.
There's not many words to sum up Arsenal's third goal outside of perfect. Maybe, "Arteta-perfection"? Another Arsenal goal starting from a goal kick or the goalies hands, played through the back, 10 passes, ending in a sublime Aubameyang finish. Leno, Gabriel, Xhaka, Rob Holding, Bellerin, Elneny, Lacazette, Willian, and Aubameyang all involved.
After moving around the box and stretching the defense a bit, Xhaka plays Bellerin who one touches it down to Elneny, who in turn helps it onto Lacazette coming back to the ball on the right side. He is fouled, but advantage is played as Willian scoops up the loose ball and pings it cross-field into Aubameyang's path on the far side. Given too much space, it was all too easy for Aubameyang to settle, take a touch inside, and curl it into the far corner. Clinical.
Arsenal leave Craven Cottage with all the points and a fantastic start to their Premier League campaign, but the positives don't stop there. Here are 3 more:
Creative patterns of play
Creativity has been a major spot of worry within the Arsenal side that seemed to lack naturally creative players. Willian offers an injection of that, but Arteta's tactical scheming and work added creativity and chances simply through dynamic movement, rather than relying on what is done with the ball at people's feet.
There were two patterns of play when it came to transitioning into the attack and trying to create opportunities that were pretty obvious.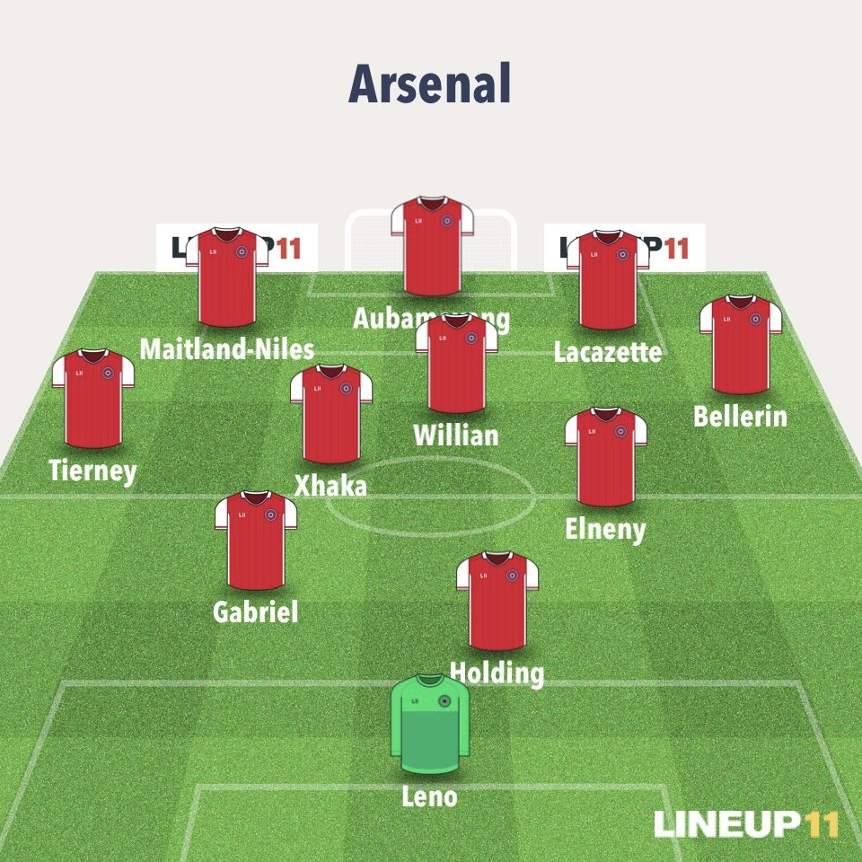 In pattern #1, we saw Arsenal transition from their 5-2-3 defensive formation into a very attacking 2-2-6. To do this, we saw Willian come very central, something many wanted to see more of from Pepe, but caters to Willian's versatility. Bellerin doesn't fully overlap but pushes up down the wing as the wide attacker. Instead, Lacazette slid right, Aubameyang came much more central, and Maitland-Niles who tucked in to allow Tierney to switch to the left back role, pushed up and occupied a left wingers space.
To keep defensively sound, Elneny and Xhaka sit in with Elneny a bit deeper, and Tierney gets further forward to continue to produce the 5, and at times 6 player, attacking front in almost a 2-2-1-5 or 2-2-6. My image has Holding very deep, but that's mostly to keep names visible and give you and idea. He was pushed up closer to the midfield in support, while Gabriel stayed about where he is located in the image as the deepest point many times.
It's worth noting that Elneny played VERY well next to Xhaka, not something everyone can do, and during this build up pattern we saw Xhaka getting forward much more allowing him to demonstrate his passing and even work multiple shots. This is something that we didn't see as much of with Ceballos as his partner, simply because it was preferred that Dani be more involved.
By executing this pattern of play, it alotted a significant amount of freedom to Willian's role while offering Arsenal a "10-type" role at the  top of the box, without dedicating a player to that role. This kept Willian involved offenseively and made movements hard to track.
However, to keep things dynamic, that was only 1 of 2 common looks we got. The second pattern of play was one that we first saw come through in the Community Shield game against Liverpool.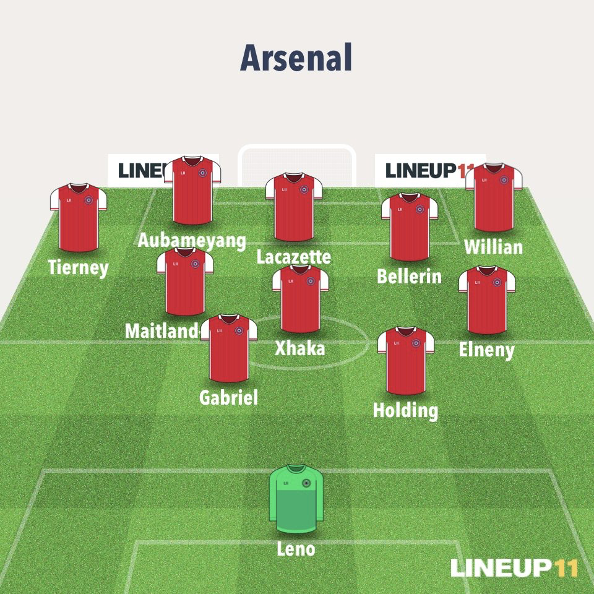 In Pattern #2, Arsenal would change things up from Pattern #1, while still transitioning into their attacking 2-3-5 formation, once into the offensive third. Rather than coming central, Willian takes up the wing role, replicating a lot of what we saw from Pepe in the FA Cup final or late-season. Willian hugs the line, which is read by Bellerin, who chooses his timing to bomb forward coming central. A perfect sign of near success? 71st minute, Hector nearly scores from the left-center of the box in open play after a late, hard sprint into the attack.
With Bellerin in that space, Elneny slides right in support of Willian behind, Xhaka central, and againt Maitland-Niles tucks centrally into the midfield. Up top, Lacazette is central, Aubameyang tucks into his dangerous spot on the left wing, and Tierney is on the overlap after exchanging with Maitland-Niles.
It's still a great balance, it's still achieves the attacking formation Arteta is looking for, and it gets our dangerous people into the spaces they are comfortable attacking from.
Now some may ask how effective this can be given Arsenal's midfield didn't look entirely dangerous, and they are right. But the beauty of these patterns was that Arsenal's staple players were invovled how you would want them to be and the midfield's role came across as though Arteta could be capable of plugging anyone in and getting fantastic results. To go one step further, if Arteta plugged in better midfielders, this pattern of play would simply get better without having to change things up drastically and THAT is a positive sign.
Two good debutants
With David Luiz being a late scratch, there was a major question surrounding how Arsenal would react. Which personnel would be selected, would there be a different formation, and would it mean rushing one of their two new signings into action? It did mean the final aspect, but while many like myself thought it would be Saliba, it was Gabriel that got the call – and he performed.
He had a very nervy first 3 minutes when there was a miscommunication and he dummied a pass thinking it was meant for Leno. It was read by a Fulham attacker, but luckily Leno was off his line and on the scene coming up with a huge play. Welcome back Bernd!
After that mental lapse, and as the game progressed, Gabriel settled in fantastically earning himself a goal and a Man of the Match award on his very first go.
Arsenal's second debutant, Willian came in and was the seasoned veteran Arteta was dreaming he could be. While I still have many concerns over the length of his deal, he always seemed likely to have a good year this year. Did I believe that that would come in the form of two assists and a hand in a third? Absolutely not. Never. Nope.
Willan managed 2 assists; 2 shots – 1 on goal, 1 that hit woodwork; 5 chances created; 3 key passes; 4 crosses; 4/5 accurate long balls; 2 duels won; 2 fouls won; 5 recoveries and demonstrated the two-way player he can be. With distinct contributions with and without the ball, Willian was on his game.
Debuts like this from both players, make the fear of the bedding in process that much less. No one is ever sure how a player like Gabriel is going to adjust to the Premier League. He is only 22 after all. Add in a second very young defender in William Saliba and you have a recipe for potential disaster if you aren't cautious. Seeing Gabriel succeed and find his footing so well means Luiz's injury feels like much less of an issue, and instill confidence that Arsenal can take their time with Saliba if he needs it. Getting those two sorted out is a huge aspect of this season given the intent for those two to be the future of Arsenal's defense.
Takin' care of business
Look, we can all step back, put on our honest but cynical hat, and say – it's only Fulham. You're not wrong. Fulham won't be fighting for top of the league, and Arsenal will have plenty of more difficult matches than that. Except, one of the keys to Arsenal's season this year is consistently beating the teams they should be beating. I spoke about it in my preseason predictions when I explained why I thought Arsenal would finish on 68 points.
Under Arteta, I believe Arsenal will be a more consistent team that consistently beats the teams they should be beating. It's something that Arsenal struggled with last year. In fact, did you know Arsenal only managed 20 of a possible 42 points from the bottom 7 teams last year? That is less than 1.5 points per game against teams that you would expect Arsenal to be beating.
To make matters worse, Arsenal only took 7 of 21 points against those teams away from home. Arsenal lost both games against Brighton, drew far too many, and won far too few. While we can't be assured that Fulham will finish in the bottom 7, this still demonstrates exactly the type of games Arsenal need to find ways to win. Getting all three today, on the road, against one of those teams is a fantastic start to the goal.
Arsenal have another fantastic opportunity to do the same, but at The Emirates. Playing against West Ham, Arsenal can demonstrate that they are capable of not just drawing or limping to wins against poor sides, but truly putting them to the sword. West Ham lost to Newcastle today and looked like a side of players that don't want to be at the club. It's a toxic environment, toxic relationship with the owners, toxic between fans and club, and all around not a good situation. Taking advantage of that to start the season with all six points before running into a tough run of games is crucial to success. The Gunners will thank themselves for it down the road when their run in at the end of the season is much easier.
Thats what I got for you. Fantastic match, hope you enjoyed it, and hoped you enjoyed some of my takeaways. If you did, feel free to subscribe below and get alerted whenever I post a new article – Thanks!