It was a hard fought match settled by a second half, Pierre-Emerick Aubameyang conversion from the penalty spot. It may not have been a scintillating match for the average, third-party viewer, but chances are, if you're reading this, you aren't a third-party viewer. And I could not care less about the third party people.
It's Arsenal's first win at Old Trafford in 14 years, it's a win that makes Arteta the first manager since Herbert Chapman to win their first two Premier League fixtures against United, and it means Arsenal have not lost to Manchester in the Premier League in their last four matches.
Oh… and did I mention, it's three massive points in the Premier League, and a win to bounce back from two tough losses? After the match, Aubameyang acknowledged the what a big win it was for Arsenal.
"It's been a very tough night but I'm really happy because the team did really well tonight. It's been a long time we didn't win here so of course today it's a big win."
Tactically, Arteta came with a plan to frustrate and deal with United's front and midfield. "They play a really tricky formation," Arteta said. "With a diamond, with a square, with people dropping into certain areas that are difficult to control." Arteta got it right and it's a match he needed to get it right in.
Arteta selected a lineup that, on paper and at announcement, frustrated a lot of Arsenal fans. It was actually relatively close the lineup I predicted Arteta may select in my prematch blog. Arteta selected:
Leno; Tierney, Gabriel, Holding; Saka, Partey, Elneny, Bellerin; Aubameyang, Lacazette, Willian
With players like Lacazette, Willian, and even Elneny in the side, it opened up Arteta to a lot of potential criticism if it all went wrong. A win became necessary, and that is exactly what the side went out and got. Great to see Rob Holding make a surprise start and play very confidently straight off an injury, as well as Gabriel, Partey, and Elneny, who really stole the show.
It wasn't a match that came with a lot of shots, which will remain a long term worry for Arsenal, but neither team was creating much work for keepers. At the end of the half, there had only been 1 shot on target from either team. There were only 4 on target from both teams combined in the whole match.
What there was, from an Arsenal perspective, was some very nice fluid movement through the center of the pitch, good off-ball movement to work for one another and progress it up the pitch, great work from Partey and Elneny to provide that tempo and skill in the center, and a few half chances that fell apart in the final third.
Willian had a few sloppy giveaways, but did manage to combine with Aubameyang inside the box to produce shot curling effort off the topside of the bar.
Saka looked good, although it was a quieter night from him. Auba and Lacazette came deep a few times to provide link up play with the midfield and relieve the pressure supplied by United's numerical superiority in the center. And, Arsenal had three golden chances throughout the game foiled by Lindeloff who was finding ways to get just enough on everything.
Lindeloff got a toe to a ball forcing Lacazette to whiff a shot from the penalty spot, he barely got a toe a ball that altered it's course and forced a mis-touch from Aubameyang, and he just got his body in the way of an Aubameyang shot in the second half when Lacazette broke make a break on an errant Pogba header and was away on goal. In a 2v.1 with Aubameyang on his side, Lacazette squares the ball, but Aubameyang couldn't get it around Lindeloff in his attempt to use him as a shield from the goalies vision. It was three examples of this game being truly one of inches.
Finally, in the 69th minute, Arsenal separated themselves from United with an Aubameyang penalty. Bellerin, who again showed how good he can be in the attack today through crosses, runs in behind, combination play, and dribbles. It was Bellerin that drew the foul after a really nice, extended span of possession from Arsenal. Willian played the ball into the corner of the box to find Bellerin looking to get in behind and endline, Pogba clips his heels, and Mike Dean blew the whistle. It was a clear penalty and Auba buries it.
With 20 minutes left, it felt like it would be a nervy finish. However, Arsenal dug deep and really didn't concede many chances. The most worrying come off an low, hard, endline ball that Elneny get only part of a foot to, resulting in a deflection up and off of Leno's face, straight into the near post and out. It could have gone just about anywhere at the point of Elneny's contact, so certainly a bit of fortune for it not to end up in our own net.
Arsenal saw out the game, Arteta got to do a lovely, celebratory arm swing, and Arsenal climb to 12 points. So, let's talk takeaways.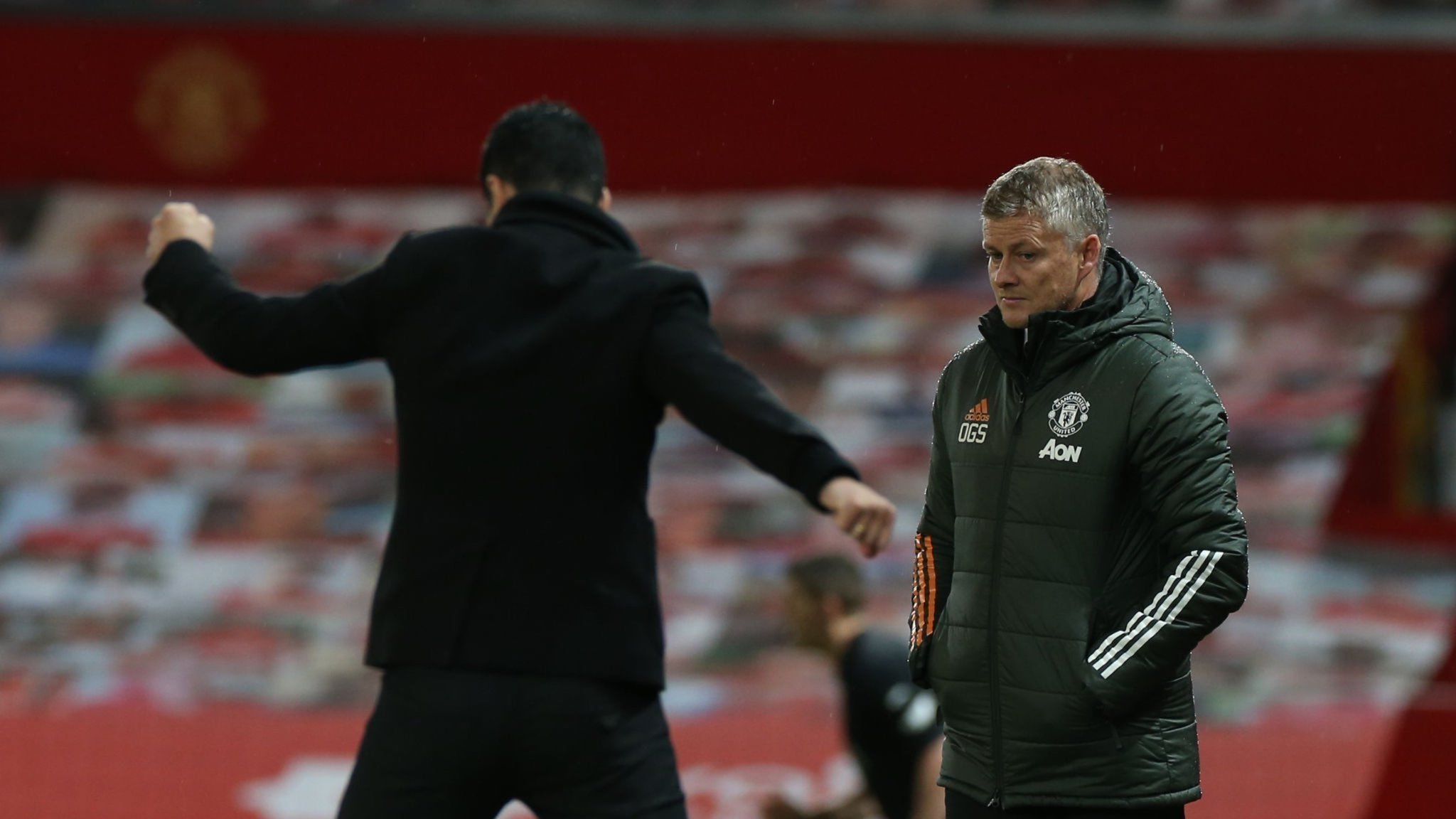 Central midfield partnership
It's early days of Partey's time at Arsenal, but it's a given that the Gunner's nearly £50M-man will feature in just about every league match — assuming he curbs his 16 yellow cards from last year. With that in mind, every other central midfielder will be submitting their resume to Mikel and throwing their hats in the ring for Partey's partner. So far, that opening has really only been within the pivot or a deep lying role, not so much an attacking mid or true number 10.
After Granit Xhaka and Dani Ceballos struggled against Leicester City, it was Elneny's turn to show what he could do, and the pair were the belle of the ball.
Their balance with one another, their seemingly flawless chemistry, their understanding how they should react to one another to support in the attack and defence, and their rampant workrate was incredible. As though they had played with one another for years.
They faced a Manchester side that looked to play with a diamond-four in the midfield and clog things up, while creating life difficult in the center of the park — they did not. A lot of the has to be credited to the this pair and the ground they covered.
Partey's Heat Map
Elneny's Heat Map
We can see and immense amount of control in the center areas, a slight favoritism for the left side (as Arsenal do), and really great support in their respective channel areas—Partey right, Elneny left— which was important to Arteta's tactics of allowing Saka and Willian to tuck inside and outside backs to overlap.
They are clearly coming deep to help shield the backline, as well as, creating numerical superiorities to get the ball out of the back, they each seized their opportunities to progress the ball splendidly, and that 91st minute sprint from Elneny to close down Shaw, force him back, and then close down Lindeloff and force an error to win the ball? Just, absolute heart and athleticism.
Arteta will undoubtedly pick and choose when Arsenal choose to play with more attack in their game and when they look to stay defensively responsible, but it's hard to imagine Elneny's name is right next to Parey's on the teamsheet next time out in a league match.
Partey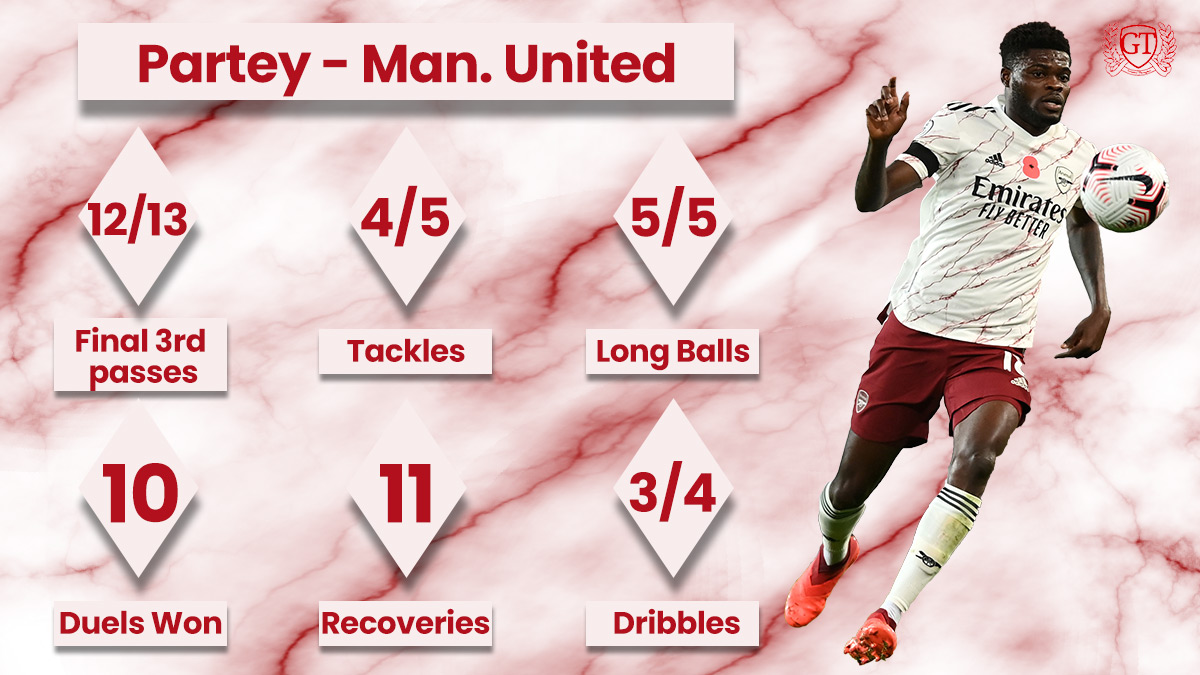 I mean, what more is there to say about the guy's performance that that image doesn't tell you? Tack on 93% pass accuracy, 1 shot on target, 2 fouls won, 2 interceptions, and you have a guy that proved he can do quite literally everything from his midfield role.
Last time out, against Leicester City, we saw an Arsenal team that wasn't looking to get him the ball early enough. They were hesitating, they were looking off the pass, they were opting for the safe ball, and some of that may be a credit to Brendan Rodgers staying compact in the middle to make that difficult, but a huge difference against United.
Arsenal were playing him early, they were letting him use his technical skills and body to positioning to get away from defenders' tackles, and really letting him showcase his talents…and wow, it worked! Who would have guessed?
Partey was outstanding. It wasn't just fantastic to see and watch, it showcased why he could very well be the pillar in which Arsenal rebuild their midfield, and entire team, around. He is so balanced and capable on both sides of the ball. He is experienced, yet young enough to grow and while it's too early to confirm, you won't fault people of a few early Viera comparisons after this one.
Defensively sound? Graham with passing
It's a bit of a weird feeling for me as an Arenal fan. It's been such a long time since I have felt like Arsenal have a top defence. It's made even odder by the fact that it was un utter shambles the day Arteta walked through Arsenal's doors on his first day as manager.
Last season Arteta solidified the backline by first planting two midfielders in front of the backline, and at times, dropping one into the backline. Then he added a third defender and morphed the formation into a defensive-minded, 3-4-3 and it paid dividends early. A decent run in, an FA Cup trophy, and a Community Shield trophy.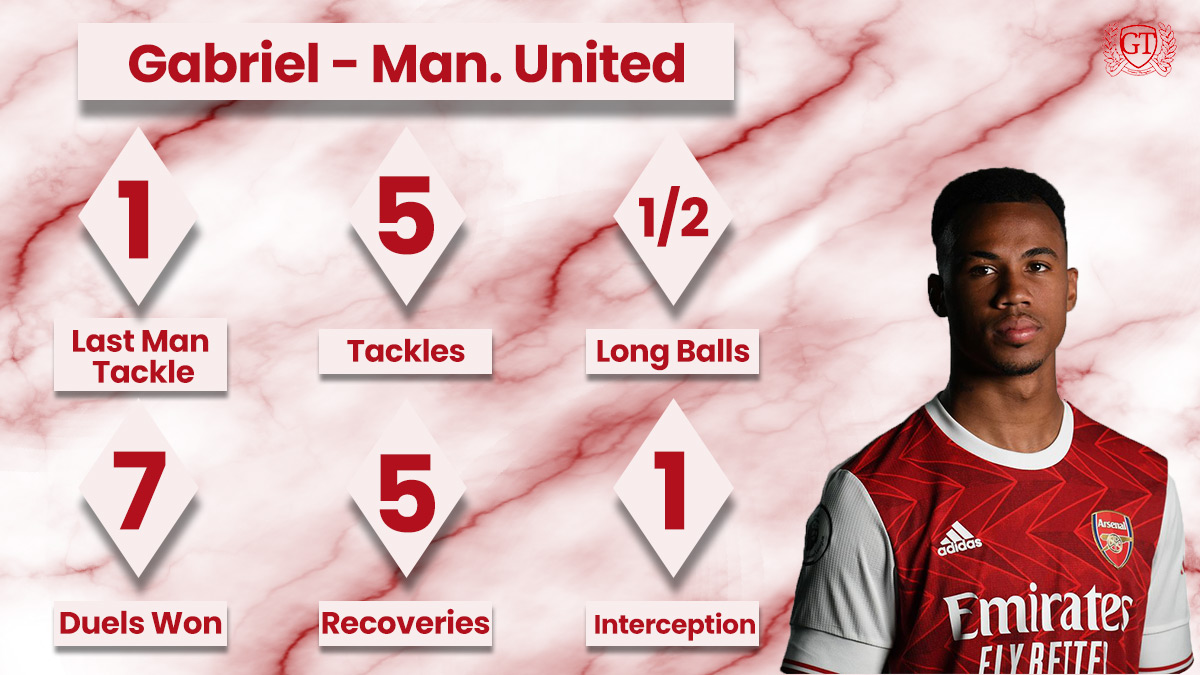 Over the offseason, he bolstered the back with Gabriel, and yesterday felt like yet another major stride forward. After 7 matches, including Liverpool, City, and United away, Arsenal have conceded a league low 7 goals. Just 1 goal per game with some of their toughest matches behind them.
The defence may not quite go as far as winning them titles, but it was the type of performance that will have had George Graham beaming at his old club. They were organized, rampant, in control, smart, and switched on for the full 90 minutes.
Arteta may not have yet shown his ability to produce quite the attack we associate with his ex-associates, Wenger and Pep, but is it unrealistic to imagine that Arteta could find success this season as a "Graham with passing"?
There already is a likeness between the situations in which Arteta and Graham walked into when they took over. The change in mentality, the creation of an identity, the stern, unyielding presence. Heck, we have nearly heard the return of "boring, boring" Arsenal… sometimes from within our own fanbase.
If that is the case, you won't hear me complain. Especially if Arteta can replicate the career successes that George Graham has to his name, while adding just a bit more passing to the attacking style.
---
It was a splendid day, a wonderful result, and it certainly has me wanting more. Molde mid-week should be another opportunity to showcase some of the youth which means I hope we see Willock, Reiss Nelson, and even Emile Smith Rowe. The younger players acquitted themselves so well against Dundalk, that a repeat performance would go a long way to getting themselves on the bench in league matches — Willock and Nelson, especially.
October is behind us, November is off with a bang, and few more matches are upcoming that would normally be more routine. The fact that the likes of Aston Villa and Leeds are not tells you a lot about the shift in the Premier League in recent years. Gone are the days where the big 6 walk through 3/4 the league and wait to battle one another, now every week presents a tough opponent. Arsenal will have to be on their game, but you'd bet on them more in these next few than against City or Liverpool.
Leaving it there. Enjoy the win, enjoy the winning feeling, enjoy the superiority over a historical rival, and enjoy the fact that even from 9th place, the table is a nice sight to look at.
Stay safe, stay well!