As Arsenal get set for a major away matchup against Manchester United, every Arsenal fan will have a bit of anxiety as they wonder at how Arteta plans to improve the attacking quality from their Premier League display against Leicester City.
There were a few good opportunities in the first half, sprung from the foot of Luiz, but when he went out injured, and Leicester City adjusted, Arsenal struggled to adapt with any sort of flexibility, creativity, or variance to their play. It all seemed predictable. In large, much of those struggles, and the lack of attack, had to do with the docile midfield.
Arsenal came out in a 4-3-3. But as they retained the ball and progressed it up the pitch, they transitioned into their 2-3-5 shape with all three midfielders creating a flat shield in front of Luiz and Gabriel, while the two outside backs overlapped down the flanks to join the attack looking a lot like the image below.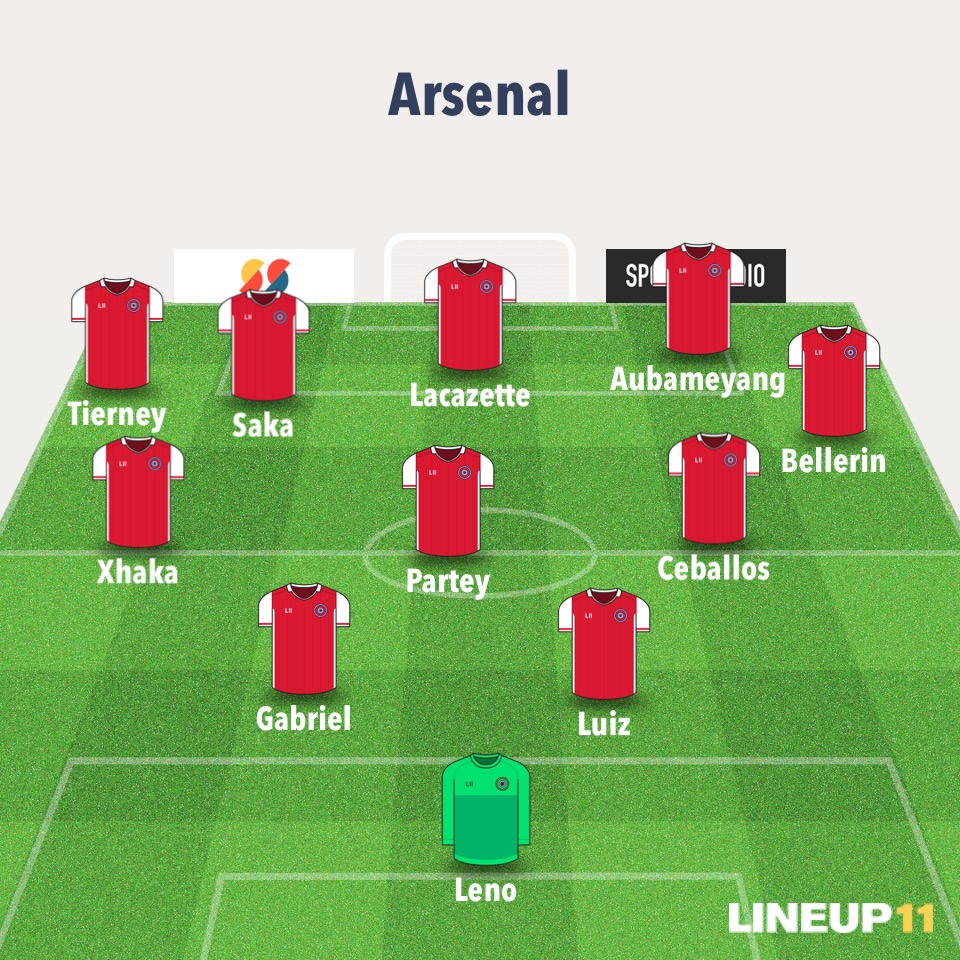 It's a setup that could work if it were simply one of the variations that a side looked to get themselves into throughout the course of a match. I have no issue with players like Bellerin and Tierney being involved. The problem was that it, again, became stale and predictable and left Arsenal's innately more technical players out of dangerous areas.
This setup left Thomas Partey and Dani Ceballos, arguably two of the better players with the ball at their feet, left on the outside looking in on the struggling attack.
As many pointed out, Arsenal lacked a presence in the central attacking areas that are often occupied by an attacking midfielder. It was frustrating, and that frustration led me to dig into Arsenal's midfield play. But I wasn't going to look at the midfield as a whole.
No, Granit Xhaka played 88 passes, the most on the team, while playing a role that isn't that unusual for him. He is often asked to filter wide left and support that side from deep, so his performance isn't that worth analyzing. Sorry, Granit.
Thomas Partey. Well Partey simply didn't get service. He is new to the side, we are still waiting to see how Arteta imagines he will work Partey's skills into the team, but with just over half the touches that Granit Xhaka had, he was simply under utilized. It's something that I expect to flat out change in the coming matches but since we have almost nothing to compare his game to, within an Arteta side, I looked elsewhere.
I turned my attention to Dani Ceballos. Ceballos has been in the side now for over a year, he has undergone a massive change in his role while under Arteta's tutelage, we have set a bar on what we expect from a quality Ceballos performance, and so, despite his lack of touches, I wanted to analyze his disappointing performance.
Why? Because I wholeheartedly believe that adjustments made to Ceballos' role within the side can be the difference maker in Arsenal's attack. With this thought in mind, I watched the entire Leicester City match again and just watched 90 minutes of Dani Ceballos.
Here is what I learned and why I think his play can elevate Arsenal's attack.
Flat-3 and wide right
In this first image, we get a really good sense of the spaces that Ceballos is asked to occupy in Arteta's set up. Very wide right, essentially on the touchline, level with the rest of the midfielders, or in a spot we often attribute to a wingback.
Dani would occupy this role very dilligently, but we can see on multiple occasions throughout the match just how disconnected he is asked to be from the other midfielders, even with the ball on the far side. Again, this is a lot more reminiscent of a wingback, more than a central midfielder. I think it would be fair to say that normally, if the ball were being played between two of the three central midfielders, the third would be much more central, much more connected, and offering himself as an option.
This disconnect and lack of central option is a major point of concern for Arsenal fans, and it should be. As I watched this match and reflected on the fact that Ceballos was uncomfortable, disengaged, and struggling early on, it was clear that he is the type of player that thrives when he is amongst the action. Similar to the switch we saw when he joined the pivot from being a strict number ten, he seems to lock-in mentally during games when asked to make tackles, distribute, run the tempo, make recoveries, and essentially do it all. This game he was detached and it lead to bits of visible frustration.
This image is a prime examle. In the 17th minute, Ceballos was sitting central, hears an audible shout from the sidelines to return to his spot, and you can see the frustration on his face as he leaves the central area, swaps with Bellerin, who tucks in, and watches as Luiz looks to play the diagonal ball to far side.
Ceballos was not the only player to show outward frustration either as Partey also showed frustration at times. While that can be expected when a team is struggling in a big match, it was clear that Ceballos had some contempt for the task he was being asked to perform so diligently.
This is a second moment of frustration, coming in the 20th minute of the first half. On the far side of the field Arsenal have a throw in and you can see Ceballos, rather dejectedly walking out of the central area to return to his wide-right role.
There were moments he had the ability to drift central and get into the attack, but for the majority of the game that green light was given to Hector Bellerin.
Consequently, Ceballos' best moments of the half came from delivering set pieces, being involved with corners, and an occasion early in the game when he gets the ball on the overlap, dips his shoulder, and serves a nice cross into the box. So what was Arteta's intent?
In the 42nd minute, we get a quick glimpse of what Ceballos is capable of from this role. We can see a clear triangle formed between Hector Bellerin, Aubameyang, and Ceballos in the right corner of the pitch. Hector Bellerin is once more overlapped and tucked in central, he plays it to Aubameyang wide right, who drops it to Ceballos. Ceballos whips in a first-time cross to the back post to find Saka who just can't make clean enough contact with the cross to direct it on goal.
It is a really nice movement from Arsenal, but it's one that hardly happened enough to rely on for a full match. Variations are needed.
Between the lines
Now that we have an understanding of Arsenal's flat-three midfield, I want to address something that surprised me in the rewatch, that actually contradicts a bit of the narrative, to a small extent.
Many people, myself included, were upset at the lack of offering between Leicester City's midfield and backline. However, throughout the first half, and a time or two in the second half, Ceballos actually takes up spots on the right side between the lines. We will look at four examples.
Now, I will admit, there are issues here and they aren't the cleanest looks, but there is a clear intent from Ceballos to get himself into similar positions that Ozil would take up when we had a true number ten, and positions that we saw Willock devastate Dundalk from in this week's Europa League fixture.
So, what are the differences between Ceballos' spot and the ones Willock took up? I believe there are two differences.
Take these first two examples above. The space in both of these are still tight. Ceballos isn't the most active in the space, but unlike Dundalk, Leicester run a tighter line — not all that surprising. In these situations, and a major missed opportunity in the second half, Arsenal needed someone to drive at the midfield and engage them. From the spots Luiz is in, he is disengaged and Leicester showed they were willing to concede that space. Had someone like Partey been given the ball to drive at the midfield and looked to combine, it may have forced an adjustment in the form of stretching and breaking up their diligent lines of defense to create pockets of space to create from.
Here, we actually get half an example. Luiz picked up the ball and began striding forward and James Maddison began to step out to engage. Maddison was given more freedom than Mendy or Tielemans to do so, but it forced some degree of disruption.
The second difference between Arsenal against Dundalk, finding success with Willock, versus their struggles against Leicester City, was their willingness to look for the entry ball to split the lines.
For the full ninety minutes, we saw an Arsenal side play in an extremely risk-averse fashion. This same aversion to daring play resulted in the backline skipping over Partey on multiple occasions, leading to his frustration.
In all the examples above, Arsenal hardly take the time to pick their head up and try to find Ceballos. They don't work their movement or passing to manufacture an entrance into Ceballos and they really don't even pretend to be looking to play the ball through the middle. Instead, everything is really safe, really secure, and ends up making life very easy on Leicester's defense.
Despite Ceballos occupying those spots on several occasions, he does not touch the ball a single time. By the end, he is occupying the space and his movement is the type of movement you see a player make when they know the ball isn't ever coming their way. It's not sharp, its disingenuous, and it's a bit haphazard.
Arsenal did and do struggle between the lines, but they need to look to find ways to work the ball into those spots when players are there, and into Partey's feet early. Trusting that Partey can handle himself with his physicality and technical play will allow him to be a core central pillar.
Similar story for Ceballos or anyone occupying these spots between the lines. Arsenal have to mix up their play and recognize when they have someone in the hole and get the ball to them. By picking up their head and engaging the midfield off the dribble, it forces a reaction from opposition defenders, which is exactly what Arsenal never forced in the second half against Leicester.
Amongst the action
We talked about the shape, we talked about some struggling attempts to get himself involved and play between the lines. We also identified a few reasons that those efforts didn't come to anything. Now, I want to look a section where we see a completely different player.
In the first 80 minutes of this match, I would call Dani Ceballos' play docile. He's uncomfortable, unhappy, and uninvolved. In the 80th minute, Jamie Vardy scored, Arsenal sub on Nketiah for Kieran Tierney, and we see Arsenal shift Granit Xhaka into the left back role. This allows Ceballos to come central and play on the left side of a two-man pivot with Thomas Partey. What follows is certainly the most active 10 minutes of Ceballos' game and Arsenal's.
Here we have an image of Arsenal's pivot after the sub. Aubameyang on the left wing, Nketiah and Lacazette forward as if twin strikers, and Ceballos and Partey in that central role. The moment this happens, Partey and Ceballos add an immense amount of tempo and urgency to Arsenal's game, spurred on by the need for a goal.
Almost immediately, we see Arsenal offering opportunities on different planes, Partey and Ceballos are getting involved and forward, and one of Ceballos' first looks is to thread a pass in between the midfield line with an entry ball to Lacazette. Frankly, it was a ball we saw on once, early on from Xhaka.
The next addition with Ceballos in the pivot with Partey was an actual look to get in between the lines and break them.
Partey is on the ball and doing what he does. Dribbling at the midfield, looking to combine. Ceballos recognizes that Leicester's back line is occupied, finds his way between the lines, and turns back to be an option for Partey to find. It sounds so simple because it should be, football is simple. Yet, that pass was something we did not see for almost the entire game.
Finally, we see engagement. Not just from Ceballos, who instantly clicked into gear amongst the action, but from Partey too. Both looked immediately more comfortable in their role and were active on both sides of the ball.
If you get a chance to go back and watch that game, skip to the final 10 minutes and watch Dani and Thomas. Those last 10 minutes are much more along the lines of what we have been used to seeing from Ceballos. Cracking into tackles, moving the ball, driving at people, looking to get in behind, continuing runs forward to help the front line, and relatively box-to-box.
I can't yet speak for Partey, but he looked more confident in his role, was getting service, and looked much more like the player many expect him to be. In the image above, we have Ceballos and Partey pinching and trapping Leicester's midfielder to force a giveaway and try to launch a counter.
It was one of the few scrappy plays from Ceballos, who in my opinion, has become one of Arsenal's scrappiest defenders. Lunging into tackles, winning the ball, staying connected with his midfield partner. Everything came together. Despite not scoring, it was a midfield I would be much more confident in had we played it for 90 minutes at that level.
What to do with this?
All of this is great, but it needs to amount to something to really be worthwhile. So, what are a few takeaways.
First, while a midfield-three is something I want to see Arsenal play, the flat three that pulls Ceballos and Xhaka nearly to the touchlines and isolates Partey in the center, doesn't seem like the way to go. Leicester showed that teams will be content to stay compact and shift to close down danger when they need to. The fact is, Xhaka and Ceballos on the touchline is a far ways away from the danger area and it showed in the second half.
Second, Arsenal need to take risks and occupy central spaces between the lines. It is obvious that Arsenal have struggled between the lines, but that doesn't need to be remedied by and outright number 10, attacking midfielder.
Ceballos, Saka, Willian, Bellerin, Reiss Nelson, Willock — all have been seen in Arsenal's last two matches filtering in and out of that middle gap. For me, the problem is when we see a distinct unwillingness to take chances and play the early option into feet. As I showed above, Ceballos took up very similar spaces to Willock against Dundalk and even Ozil within Arteta's 4-2-3-1 system, but he never got more than half a look. Arsenal need to take their chances to go vertical, even if it results in a few more giveaways.
Third, tempo and urgency. In the final ten minutes, with their feet to the flames, Arsenal picked up the pace of their movement and passes. Only then, did they start to stress Leicester. It certainly was not enough time, it was all a bit chaotic given the extra man up front, but if they can show that urgency and pace earlier in the match, within their system, results will follow.
Finally, Ceballos and Partey's partnership. I have no doubt that Arsenal will get more from Partey than they did against Leicester when they start playing him in the capacity he should be used. Early balls to feet, letting him progress, win the ball back, and play his game. However, I also believe that Ceballos offers Arteta the most flexibility within his game to be whatever Arteta needs, as long as it is in a central area where he is a part of the action. It is evident that his game thrives on him being mentally switched on, and a part of the game's flow. When he is reduced to the outskirts, it seems like his effectiveness dips with the reduction in his involvement.
Whether Arteta chooses to play a 3-4-3, a 4-3-3, or even a 4-2-3-1, I believe Ceballos can offer a great partnership with Partey to pressure opposition's midfields into early mistakes and create quick opportunities to get forward and punish opposing teams. I would love to see more minutes like their final ten against Leicester when it comes to the midfield pairing being rampant.
---
Hope you enjoyed you enjoyed the piece. It was a long read. I enjoyed doing the work to put this together and hope I can do a few more this season where I hone in on one specific player! Let me know if you enjoyed the piece, your thoughts on it all, or any other feedback!
If you really liked it, feel free to subscribe to the blog and be alerted whenever I release a piece!