In a matchup that may not longer quite carry the same weight as the historic days of Arsene Wenger squaring off with Sir Alex Ferguson, winner put themselves in contention to win the league, hatred and anger. The rivalry that led to Keown leaping in glee at van Nistelrooy's missed penalty and Roy Keene's rant in the tunnel at Patrick Viera. But it's still a matchup against two of the Premier League's major clubs, both of whom are sporting young managers trying to get their side back into the race for titles.
Old Trafford may be a historic ground, but it's been the stuff of nightmares for Arsenal fans hoping to see their side win in recent history. In fact, Arsenal have not won a match at Old Trafford since 2006 when Ole was on the losing end of an Adebayor goal and Mikel Arteta played for Everton.
Since then, Arsenal have registered zero wins, five draws, and eight losses (0-8-5). It's a pretty miserable record, but Arsenal fans will look to the fact that they have competed well and even beaten some of their fellow Premier League "Big 6" clubs under Mikel's guidance. Couple that with the fact that United are sometimes an inconsistent side under Ole and you have a recipe for getting an away result.
To be fair to United, they have managed some good results in the Champions League lately. They rolled through RB Leipzig 5-0 earlier in the week and beat PSG 2-1 away from home. However, they Premier League form is not quite at the same level. They lose their opener 3-1 to Crystal Palace, they were rolled over by Tottenham of all teams 6-1, and they drew to Chelsea 0-0 in what will certainly be one of the worst matches of the season.
Arsenal on the other hand, have won the games they should, struggled against Liverpool and Manchester City, but sit in a position where a big result against United would see them shoot up the table with three of the season's toughest matches out of the way. Truly, the 1-0 result at home against Leicester hurts. A tale of two halves, and a Jaimie Vardy smash-and-grab saw Arsenal stumble their way to two-match losing streak.
A bounce back here would be huge for their confidence, huge for the season's end result, and a fantastic way to finish the month of October that has been rife with difficult matches.
Coming into Old Trafford, Arteta and Arsenal will know the key to their success is shutting down United's front three and Bruno Fernandes. The job at hand isn't just about maintaining possession and denying Manchester the ball because they will be content to bide their time and look to spring a devastating counter.
"They create really good relationships and they are all very different," Mikel said about United's attack. "They glide together, they have some really good understanding and chemistry on the pitch. You can see that.
"I think that since the lockdown, Ole has managed to improve that a lot and you can see that at the end of the season, the amount of goals and types of goals they were scoring. They are a threat."
Giving up 2.4 goals per game, Manchester United will trot out the worst defense in the league which presents a clear opportunity to apply pressure early and score.
United will try to protect themselves in a couple ways. First, possession. United are averaging 54% of the ball this season, and at home, you imagine they will want to keep Arsenal off the ball. Secondly, United routinely play a couple of formations depending on their opposition and their own players skillsets.
"They can play two or three different formations," Arteta said. "We know that they've been changing some things because of the opponents sometimes, because of the quality of the players they have, and sometimes to change the game in certain moments. "
"We have to be prepared for that because they have that adaptability, they have a big squad and up front they have a lot of options as well to do different things."
This means Mikel will have to be ready to adjust his own side to whatever Ole and Bruno their way, an aspect that was a struggle against Leicester City, who made minor adjustments and really frustrated Arsenal's attack. All the while, protecting their backline and doing their utmost to not allow Mike Dean the opportunity to participate in his favorite pastime: injecting his presence into the spotlight of matches, preferably at the expense of Arsenal.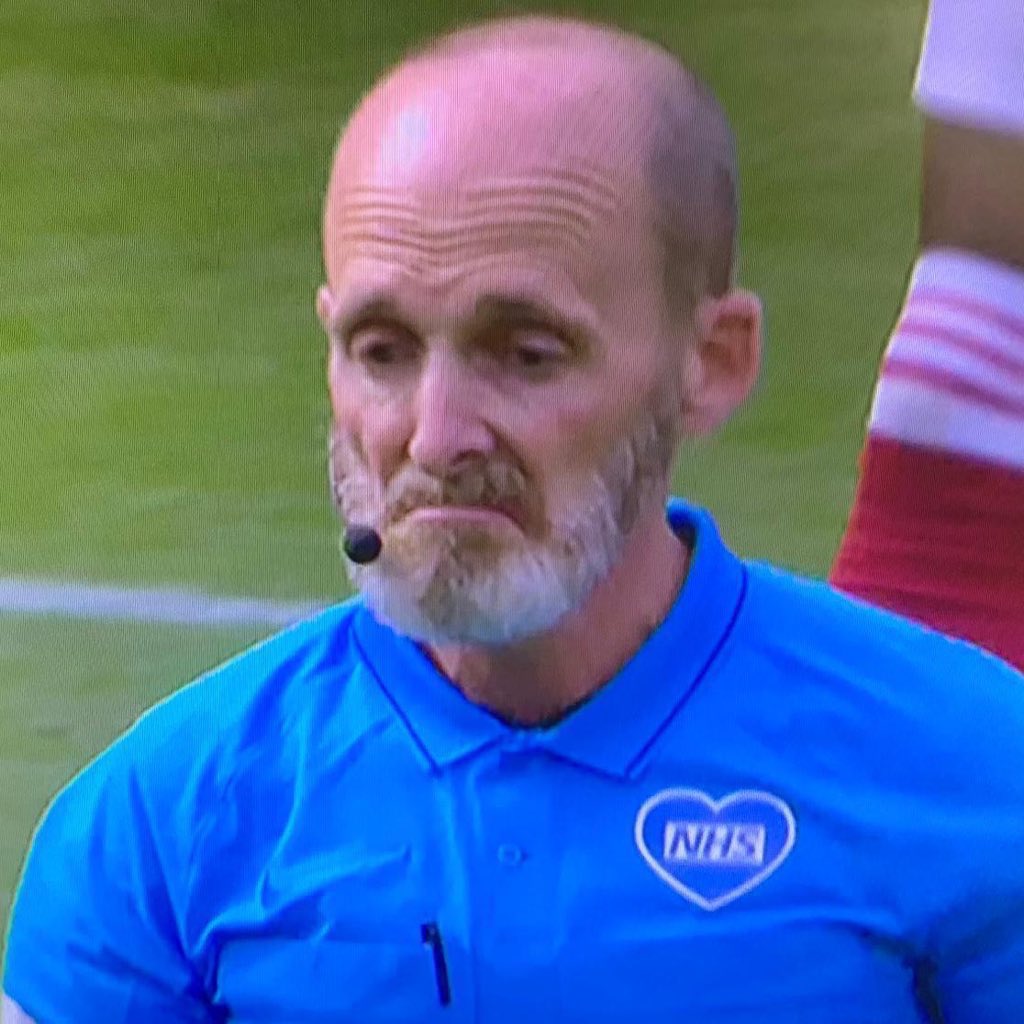 An Arsenal result and more of this face, PLEASE!
Lineup:
Manchester United are not the only teams in the competition that loves a good fluctuating lineup. Arteta has become notorious for deploying a 3-4-3, a 4-3-3-, or a 4-2-3-1 that progresses and transitions into a variety of different looks in an attempt to manufacture creativity through movement, given his side's innate struggles to self-create.
It's an aspect of Arsenal's game that needs to change. Obviously sharp movement and fluid transitions are necessary for any potent attack, but the the reliance on it to make up for a lack of ideas is unhealthy for any side. It's a work in progress, one that will take time to reach the attacking level people want to see from a front line that boasts the ability to play Aubameyang, Willian, Pepe, Saka, and Reiss Nelson.
The question for tomorrow, is what route Arteta will look to go with his lineup. It's hard to imagine that with so many center backs registered to the side, Arsenal are struggling to field two natural ones, but here we are. Additionally, if there are issues or suspicions surrounding the central of their defense, what will that do to Arteta's tactical plans and willingness to adventure forward and attack.
In the end, we have another match where I am left with one side I believe Arteta will select, but another I would prefer to see him select. However, it must be said, there is a lot of room for variance should Arteta want to get creative with roles. For instance, putting Aubameyang in the central role of a 3-4-3 is something we have yet to see and would change the entire complexion of the side. Potentially even enabling Xhaka to take up the left wingback role with directions to stay home, support the left side, and allot Tierney to get up and down the left with Saka in the left winger role.
I'm not saying thats something we will see, or even should, just considering what options open for Arsenal as soon as Arteta commits to Aubameyang as a true striker… finally.
Side I believe Arteta may select:
It's not a side that will win him points with with fans, which means it would need to lead to a results. However, there are a few reasons that I believe we could see this lineup. Number one and two? Away from home, looking to deny the counter.
Arteta has often selected the 3-4-3 when going up against larger clubs, which means it might not be a big surprise if he goes that route once more for Old Trafford. This would supply some natural shield agains the counter, it puts Partey and Ceballos in a comfortable pivot, it allows the central striker, Willian, and Saka to fill in the hole, and prevents a central defender from being able to mark Aubameyang as easily.
That last point, is an aspect Arteta brought up in his prematch press conference. "It was great for him [Aubameyang] to play on the left because he wasn't picked up by central defenders. There was more freedom for him to do that. [Criticism] is a part of this industry." It's not exactly a response that instill confidence for someone that wants to see Aubameyang more central.
The third reason would be the health of Luiz, or reliability of Mustafi, after the Leicester City match. Luiz went out hurt and Mustafi struggled up against the pace of Vardy. Pace is not something United are short of up front, which could make Arteta feel the need to hedge his bets and protect against it. It's not my favorite side, but one can imagine Arteta believes it to be the practical solution.
Lineup I would prefer:
The only aspect of this lineup that I am not the largest fan of, would be involvement of Willian. We haven't seen a great performance from him since Fulham, or maybe the few minutes against Sheffield United that saw Arsenal score. Personally, I would prefer the involvement of Nicolas Pepe, but his consistency in performance is as streaky as the consistency in which he is given starts. It makes that selection tough.
Otherwise, I believing giving the four back system a true run of games is an important aspect of committing to the transition. It's added match minutes that allow the squad to build chemistry and click with one another. And that's something that is very important to building an attacking identity.
Rigorous and diligent drilling helps with defensive identity, it can help build patterns of play that are important, but when you see Arsenal's lack in flexibility, I believe it becomes important to give them opportunities to find a groove with one another.
Additionally, this puts Aubameyang central, it surrounds him with some of Arsenal's better creators in Saka, Ceballos, and Willian, who ideally clicks into a comfortable place soon.
Predictions:
I think it's going to come down to a game of inches if you will. If Arsenal can out possess Manchester, if they can create 14-18 shots, I believe they will put themselves in a good position to take advantage of a porous United backline. If they can only create 12-14 shots and allows United to get on the ball, I fear Arsenal will shell up and struggle to expand their midfield roles.
I think both teams will score and the final will be 2-1… I just hope Arsenal has the two.