There are matches and results that hurt because your team was played off the park, and then there are matches where you are left with a multitude of moments you replay in your head a hundred times hoping it will change the outcome. Both hurt in their own way, but the second one has a tendency to hurt immensely more.
Unless being played off the park comes in a place called Baku…
Oh, why did I write that. The pain is so much worse now.
Yesterday's match against Leicester City leaves me with a sneaky, gross feeling that it has gone precisely how Brenden Rodgers dreamed it would go. And I know that Vardy's goal was everything that Arsenal fans had been pre-dreading when they heard Vardy would be "injured" for the game, but the likelihood late in the week was that he would be available to some extent.
Well, he was available for the bench, Leicester did the job they needed to for 60 minutes, and their star man came in to do what he does. A sucker punch to the gut, a crashing back to Earth, and a real tale of two halves. One half was just about everything Arsenal fans dreamed could be put together with Partey in their midfield and Arsenal looking to attack with a 4-3-3 shape. The second half was a demonstration in what happens right now when opposition figures out Arsenal's tactics and adjusts to shut it down.
---
Arsenal fans were buzzing when the lineup was announced:
Leno; Bellerin, Luiz, Gabriel, Tierney; Ceballos, Partey, Xhaka; Aubameyang, Lacazette, Saka
It was a clear 4-3-3 shape. Arsenal's three strongest midfielders, on paper, comprised he center of the park. Partey was given his first start. Arsenal were at home and their lineup suggested they were looking to attack Leicester City.
The pregame narrative got a little odd when reports emerged of Saka occupying Arsenal's left wing in warmups, and Aubameyang occupying the right. Not only did this mean Aubameyang wasn't given a chance to be Arsenal's main man for another match, it meant he wouldn't even be taking up his second most common spot, instead reduced to trying to offer life to Arsenal's right half of the field. It was a frustrating decision, one that didn't work, and one that I am still trying to puzzle together.
The whistle blew to start the first half and Arsenal were putting together some very nice early moments. Controversy would come in the third minute when Ceballos whipped in a corner for Lacazette to get his head on and direct into the net. It seemed like it was exactly how Andreas Georgson and Arteta drew it up. Except the line judge wiped it away saying that Granit Xhaka, who was behind the keeper, interfered with the play from an offside position. VAR confirmed the call, that I believe was completely incorrect, and the no-goal would come back to cost Arsenal in a major way. Possibly nothing was more telling than Leicester's keeper Kasper Schmeichel picking the ball out of the net and punching it back toward the halfway line in frustration with no appeals of any sort for offside or interference.
However, we can't talk about this game without talking about the buffet of early chance that were begging for someone in red to touch home, only to have the chances fade into the wind. Luiz played countless long balls to Tierney's feet, over the backline to Bellerin making a run behind, and a few precise passes to Bukayo Saka. Everything then fizzled out with the final ball.
Blocked crosses, poor finishes, saved shots, blocked shots, and none worse than the 29th minute when another splendid Luiz ball was pinged cross-field to the feet of Tierney who pelted a ball right across the face of goal, at head height, and Lacazette closed his eyes, lowered his head, and got no contact on the ball to redirect it less than a yard into the net. Any sort of contact bundles the ball into the net for a goal.
Arsenal will have felt like they should have scored at least 2 goals in the first half at half time, while Leicester will have been thanking their lucky stars while feeling like they were halfway through the job at hand. For the 2nd half, Arsenal just needed to keep the foot on the gas and have faith the goals would come.
2 minutes into the 2nd half, Luiz would go down injured and have to be subbed of for Shkodran Mustafi, the first sub that would play a role in changing Arsenal's fate. Later in the half, Saka took a huge rap on the ankle and he needed to be subbed out for Pepe, the second sub that changed Arsenals fate. Saka was one of the few players making any attempt to drift between Leicester's lines to cause problems, while removing Luiz, took away the player that had created many of Arsenal's chances in the first half with his long balls.
Unlike the first half, Arsenal would have to wait until the 68th minute to register their first shot of the second half. It was a spectacular and clean volley from Hector Bellerin, but right at the keeper. This would be Arsenal's only shot of the second half. A complete U-turn in performance and a very defeating statistic.
As many feared prior to the game, Jamie Vardy would be subbed on, and his appearance made all the difference. Not only did he score the actual game winner, he should have scored a second goal in the 90th minute when he was slipped in behind and burned Mustafi for pace. Leno makes the big save, one on one, even if it didn't make a huge difference.
On the actual goal, Leicester's midifield gets the ball in space, while their new boy Ünder made a half check to the ball, in order to sucker in Granit Xhaka, which opened up all kinds of space in behind. A simple ball over the top left Ünder in all kinds of space with time in the box to cushion a half-volley square to Vardy for a tap-in diving header. Gabriel forced to try and get across to make a play on Ünder is caught in no man's land, while Mustafi is completely caught out and nowhere near Vardy. Vardy is always going to score that chance. 1-0 Leicester and game over.
It was a wildly frustrating match and one in which the insult is piled on when you reflect upon the opportunity that laid before Arsenal. With City, United, Chelsea, Aston Villa, Everton and Wolves all dropping points, a win would have seen Arsenal into 4th place at this early stage in their season and gain points over some of their biggest competition — including Leicester. It was a missed opportunity but, as always, there are things we can take away.
Attacking football is not a light switch: Round 2
I wanted to start with this one once more. This was one of the takeaways from the midweek game against Rapid Vienna, but it rings true once more. Arteta has spent 10 months with the team, much less actually working with the side because of the lockdown and short offseason, and you have to imagine much of it was working on their defensive shape, their 3-4-3 formation, their workrate, and their mentality.
Suddenly, Arsenal get a major additional piece in the last week, they look to change their shape and how they play the game, and the expectations sometimes make it seem as though they will suddenly be this fluid attacking side, scoring 3 goals a game, and creating these lovely bits of movement, which seems unrealistic to a degree. Even between Rapid Vienna and today, the difference was pretty major in the first half, as far as shot production, although nothing has gone in the back of the net.
This is not to say that the side cannot be criticized for their play, far from. They can and should be on certain aspects, it's more to say Arsenal took a step in the right direction, they produced more shots, they produced what should have been an early goal, and the attacking gameplan should not be abandoned by any means to revert to a 3-4-3, defensive look. Give them a few more matches to find their shape and roles and we will get a better idea of where the side is truly at in their development.
With that said let's look at some of the criticisms we can discuss.
Midfield drive, urgency, and flexibility
Everyone was excited to see Thomas Partey, Granit Xhaka, and Dani Ceballos' name on the team sheet. It was a true 3-man midfield, something we have seen very little of, so how would they play? It was pretty evident from the start, that Arsenal were looking to have a flat three midfield with the ball where Partey would occupy the center, Xhaka wider to the left, Ceballos wider the right. These three would shield the backline from exposure, while the outside backs overlapped and joined the attack. It looked a bit like this: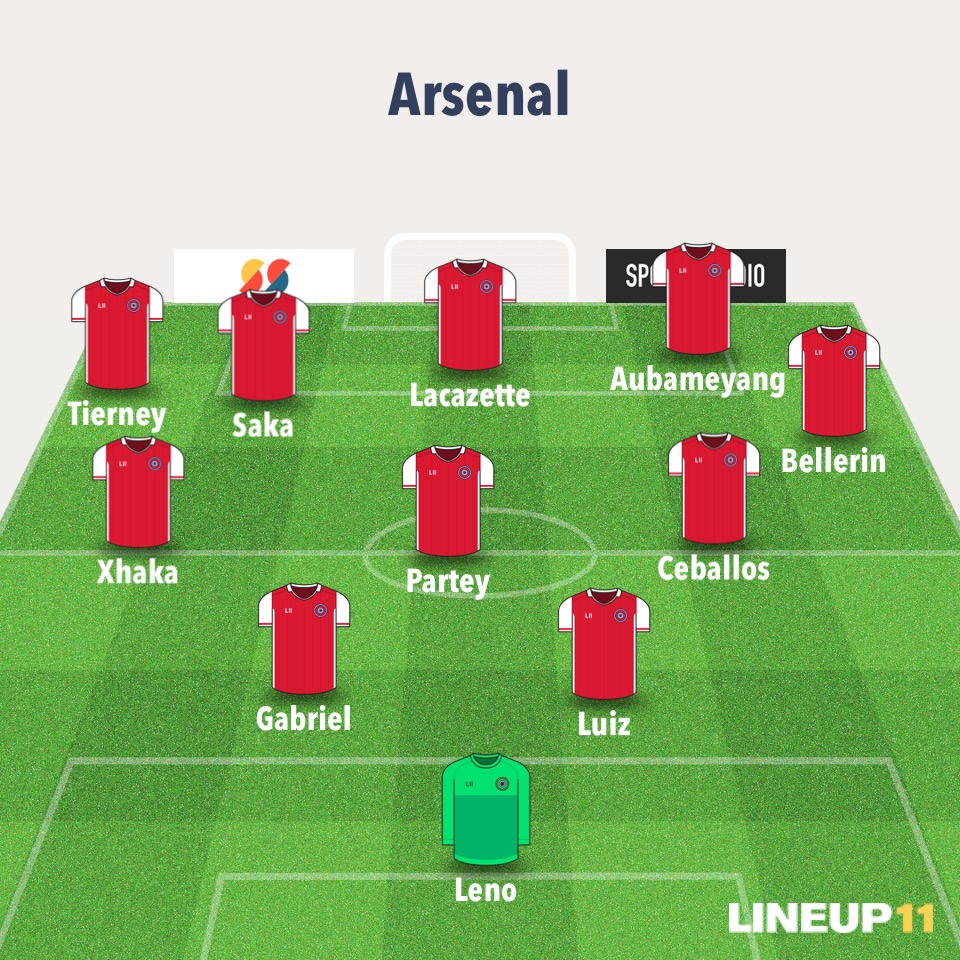 In the first half this worked alright because Leicester was allowing Luiz, and a few others, the ability to have all the time in the world to pick out a pass. At half time, Leicester City made an adjustment and Luiz left the game with an injury. Suddenly, Arsenal didn't have someone pinging that ball anymore and Leicester were closing down the channels a bit better, content to let Arsenal move the ball side-to-side.
What didn't happen, and was frustrating, was an adjustment in the plan from the midfield or Arteta until The Gunners were down 1-0 with about 5 minutes left. Ceballos looked uncomfortable from his wider right position and entirely less active. Arsenal weren't finding Partey with the ball, which meant he wasn't picking it up and driving forward the way we saw him play at times against Vienna and even Manchester City.
When the chances weren't being created, the shots weren't coming, and the game needed something different, that's when Arsenal need to be ablet o look toward those three to amp up the pace of play and drive at the backline. Arsenal completed 1 of their 4 dribbles today. Not only is that a poor percentage, they only attempted 4 dribbles in a game where they had 57% of the ball. As the wings got shut down, it seemed like having the likes of Ceballos and Partey turning north and south with the ball at their feet to engage the Leicester midfield and backline could have helped open up the rest of their attacking game.
It was only in those closing minutes that Ceballos started o motor around the midfield to get himself on the ball. The rest was really stagnant and slow, leaving you with an impressed feeling. I will be looking for adjustments to that in the near future. I believe there is plenty of room for Arsenal to keep their shape and responsibilities while still elevating the play.
The striker role
It feels impossible to have watched this match and not been frustrated with Arteta's deployment of the front three. Aubameyang on the right was awkward, Lacazette was oft ineffective in the hole, Saka had bright moments, but not enough in my mind to displace Aubameyang from the left, Pepe came in and really didn't get any service, but also hardly imposed himself on the game, and yet again, it forces me to wonder if Aubameyang is wasted on the wings.
I have always been a fan of Pierre wide left. His numbers show that he historically does score at roughly the same rate, but Arsenal simply are not working the same type or number of opportunities for him to get into dangerous areas. He was poor again today, no knocking it, but for a star player, he is getting the treatment of someone who is just a versatile plug. I would like to see our attacking being built around getting him into as many dangerous spots in every 45 minutes as possible, and that feels like it should come from the center.
Lacazette scored today. It was unjustly called back, but it shouldn't have and would likely have changed the narrative. However, I can't help but feel as though a goal would simply paper over the cracks in his game. It would have hidden the wasted chances, heavy touches, the lack of creation for his teammates, the below average link play when he drops into the hole, the fouls he conceded around Arsenal's box that maintains pressure, and the ability to retain his play for a complete game. His technical skills seem to let him down more and more as the game goes on.
While I can rationalize the likelihood that Arteta wants Aubameyang on the wing and tucked in so that he can stay high and on defender's shoulders rather than dropping deep and doing the dirty work, Lacazette has struggled at doing the dirty work or create for quite some time now. Arteta has a huge question in front of him that needs answering sooner rather than later. In an attempt to get Aubameyang into dangerous areas, Saka on the field, Pepe on the field, Willian — how does he get more service to Auba's feet? For me, the answer is dropping Lacazette, in favor of Aubameyang and possibly a number 10 that plays centrally, like Saka or Willian.
It was an ugly result, with a few silver linings. Something that seems to be the trend these days with Arsenal but needs to change. Arsenal has 4 days to work until their Europa League clash with Dundalk, and then another major Sunday clash in the Premier League against Manchester United at Old Trafford. It's a game that feels like Leicester City. United have gotten some results, but they have also really struggled this year and given teams the ability to get after them. Here is to hoping that matches like today are limited to few and simply growing pains, but Arteta needs to take a hard look at himself and his intentions to take strides forward soon. He said all the right things about fluid football when he came aboard and undertook Arsenal's project in December of 2019, but now that the opportunity is here to do something about it, he needs to take it.