This weekend Arsenal fell to Manchester City 1-0. It wasn't a wowing performance. It wasn't a bad one either. It was simply one that left me feeling as though Arteta is looking at matches and his transitioning squad and saying, "we gotta do what we gotta do".
I almost feel a bit for Arteta. I don't believe that playing with only a few attacking players and only having the ball for 30% of the game, while struggling to create shots and opportunities for Aubameyang, is Arteta's dream style. Some ventured guesses that Arteta may opt to morph Arsenal's style into something like Atletico Madrid's, but that's not really a fear of mine.
I think the selection of Bukayo Saka on the left over Ainsley Maitland-Niles, in a game that more obviously catered toward that defense-first role Niles plays, is pretty telling. Arteta wants two-way players, but he wants to get more attackers on the field when he can. The issue is, Arsenal are still having new players find their footing, an incomplete midfield, and not enough opportunities to work with the personnel needed to make a complete switch.
What it left us with was a curious amalgam of a 3-4-3/5-2-3 without the ball, transitioning into a 4-3-3/4-2-3-1 when Arsenal did get the ball, if they could hold it for long enough to properly transition, against a very tough opponent that looks to press. In many ways the idea of it makes sense and I can understand the thought process behind it, but I will be left hoping it is simply a temporary solution. The problem is, as I mentioned in my post-match review and takeaways, this is the WORST time within Arsenal's season to be forced into transitioning.
To understand what I'm talking about let's take a look the Manchester City tactics.
It was pretty clear that Arteta came in with a plan that revolved around defensive security and attempting to create a few great chances, rather than an abundance of chances while risking the backline being exposed.
With alterations to the lineup, ones I liked on paper, he looked to create a fluid front with Aubameyang, as a central forward, Willian behind in a number 10/false 9 role, Pepe to the right, and Saka playing a bit of a left winger bit of a left wingback role. It really didn't come off and City's dominance of the ball caused problems while their press and defensive workrate limited service to dangerous areas.
It was evident in the first half that Arsenal essentially were trying to transition between two looks. 1 with the ball, 1 without it. Again, with City dominating the ball, the "W/o ball" look was seen more frequently. But the few times Arsenal did win it back and settle in, you saw Aubameyang come back central, Saka attempt to get up the line and support, Willian was in behind or exchanging with Pepe on the right at times. There were glimpses of fluidity, but with little result. Something we will talk about later.
Since Arsenal were out possessed spending much of the match w/o the ball lets's look at that formation first.
It was clear and expected that without the ball, Saka would take up similar positions the LWB takes up producing the 343/523 look. Since he vacates that left-wing, Auba would shift left and Willian would push forward to lead the press. It ended up looking a bit like below's image (ignore numbers).
By making this shift, it puts Auba in familiar pressing position on the left and opens up the chance for quick counters through the left channel. Now Arsenal are in the familiar defensive shape that has yielded results.
In part, this worked. Arsenal only conceded one 1 goal and didn't concede 19 or 20 shots as they have in recent matches versus City away from home, but the transitional attacks were nearly non-existent. There were early signs that something could be on down the left side, but City's adjustments limited that.
I thought Willian's performance was relatively poor, and for someone that is playing a crucial cog in both the offensive and defensive tactics and transitions, it needs to be pointed out. He created 2 chances but I believe both were off set pieces. His press struggled to yield many results, and the few opportunities that Arsenal may have had on the counter, his movement made it abundantly clear that he is uncomfortable selecting the right runs to be dangerous. On multiple occasions the ball was won on the left and at Aubameyang's feet and Willian either picked the wrong run or moved in a way that removed him from the play.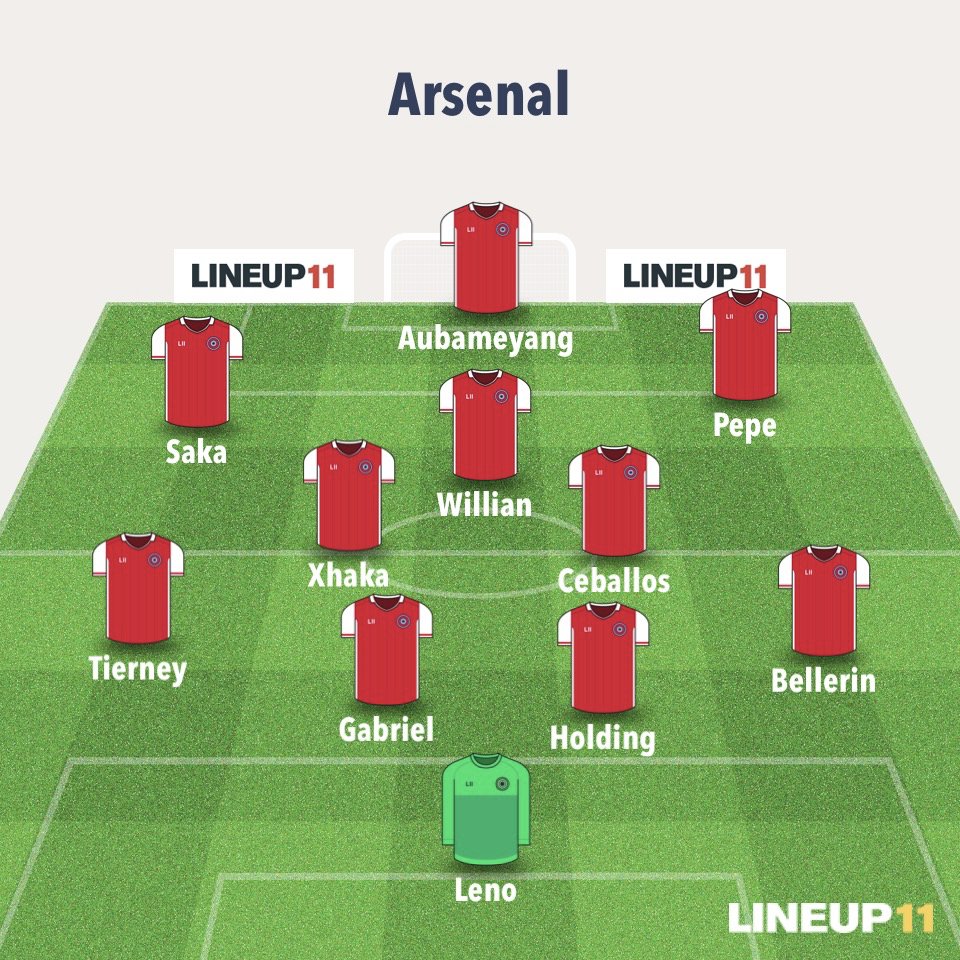 But let's look at the attack a bit. The challenge that Arsenal faced was winning the ball, deciding whether the counter was on directly or, if not, retaining the ball long enough to progress up the pitch and shift into their 4-3-3 shape. That requires time for Saka to get up the left-wing Aubameyang to shift central, Kieran Tierney to get up, and Willian to drop back into the attacking midfielder spot.
However, this shift isn't just about covering the distance, especially not against a rampant press like City's. They had to do it while helping their team keep the ball and they struggled. They had a tough time against the press, the midfield struggled to offer vertical, daring options, the lack of creativity was on display, and directing some of that fault toward Willian seems is fair.
Credit where it's due. City were willing to overload the middle and close opportunities while goading the pass wide, and really looked to jump the pass and trap Arsenal on the edges. Rodri covered a lot of ground and they clamped down very well with Silva, Foden, and their front.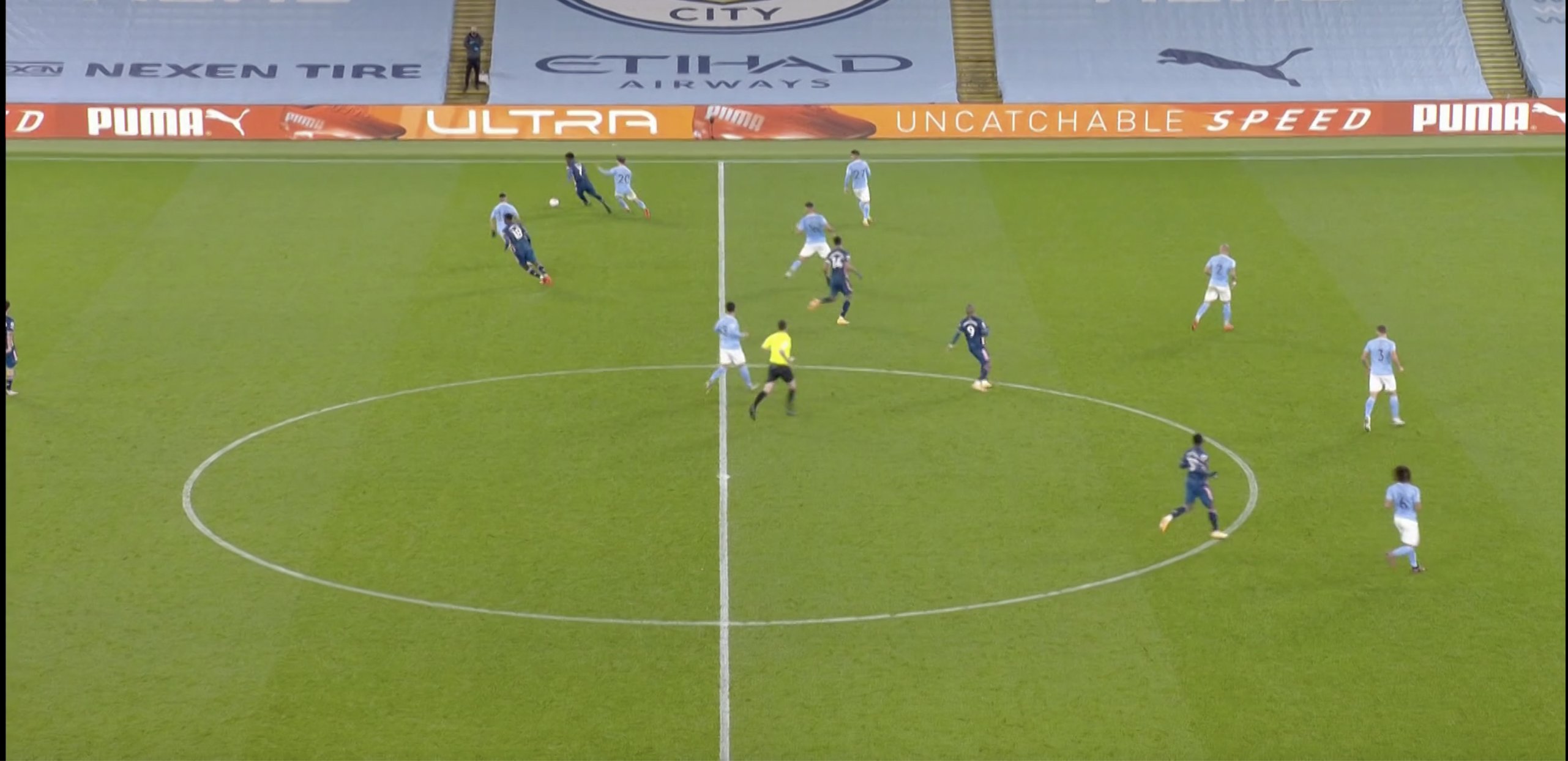 This will be a new challenge for Arteta and Arsenal. While they transition players like Partey into the side and work out the kinks of a 4-back system, they are still dependent on creatively getting numbers back to defend while trying to work shots.
I truly believe this is a temporary problems. The solution we saw against Man City didn't work, it needs fine tuning, but it's not necessarily going to be how Arsenal play in upcoming matches. In fact, it might not even be how they play next weekend against Leicester City. A full week of training and a match against Rapid Wien will go a long way.
But until we can solidify our lineups and tactics that enable us to play closer to traditional 4-3-3, and not expose our backline without the ball, Arteta may believe we need to creatively transition between a very defensive 5-2-3 shape and an attacking 4-3-3. Take heart at the fact that things are getting better.
Have confidence that the problems of this weekend will not be the issues in coming months. Enjoy the fact that Arsenal have played their away fixtures against Liverpool and City, and still find themselves just 4 points off the top of the table. Good showings against Leicester City and Manchester United, and continued success against the sides they should be beating, and Arsenal will be a great spot. Temporary troubles, but still choppy waters to navigate. Everything is going to be alright.