It's deadline day which means, I know that you are all keeping a pulse on what is going on and have a lot of articles to read, so I am going to try to keep this brief, despite there being a good amount to talk about. I mean we ACTUALLY got to see Aubameyang as the central striker! I honestly did not think this would be a thing under Arteta, bar unusual circumstances, but there are important aspects with it to talk about, so let's move quick!
Arsenal were in need of making a real statement with this game. Their last Premier League match was a loss to Liverpool that was incrementally better than previous Liverpool matches, despite not getting the result this time, but really demonstrated that the chasm between the two teams is still clear. Arsenal struggled to create much against Liverpool, which may not be a surprise, but they also struggled to create against West Ham the match before that one. Couple that with the fanbase-wide, faith-shaking news that Arsenal may be shut out from completing a deal for Aouar, and a display of what the Gunners are capable of was needed.
To be honest, it didn't really come. Arsenal struggled immensely in the first have creating only 4 shots, despite having 74% of the ball, they didn't work a shot until the 29th minute, and they looked docile, stale, and void of creativity. Sheffield looked Arsenal in the eye, they said come break us down, and Arsenal really didn't come close. There were a few moments in the first half they got into good spaces and the areas they want the ball in, but technical letdowns and sloppy play killed a lot of their momentum. Willian was very poor on the right wing, poor in tight spaces, and couldn't find footing.
A few moments from Saka where we could come central looked a bit better, but all in all, the shot creation stats speak for themselves. Leno wasn't tasked with much besides being quick off his line from a very early Luiz error.
It wasn't until the second half that things got going, in particular when Arteta made the decision to bring on Pepe for Eddie Nkethiah. This saw Arsenal switch more to a 4-2-3-1/4-3-3 with the ball by putting Willian in the role usually associated with Ozil, Saka as the right wing, Pepe on the left wing, and Aubmeyang as the central striker. This didn't produce a lot of shots, in fact Arsenal tallied less shots in the 2nd half than in the 1st, but they were more dangerous, sharper, and scored 2 goals within 6 minutes of making the switch. From there, the job switched to seeing everything out. Could they have created more? Could they kept their foot on the gas even longer and worked a third and fourth? Maybe.
But in a season where a lot of Arsenal's success or failure rides on getting 3 points against the teams they should be beating, there was the more important task of ensuring the win, rather than testing the formation. They succeeded. There was were some nervous moments when Tierney couldn't quite get tight enough to McGoldrick who dispatched a very nice finish from outside the box. It was promising to see Arsenal batten down the hatches after the goal and get the 3 points.
Here are a few takeaways:
Tactics
A question on the tip of many people's tongue is – what the difference in tactics between the first half was and second when the shape shifted. It's a great question. It's not as major of a shift as you might think, but importantly it puts another attacker in an area to be dangerous and help create. So, I want to break this down with images and text.
First, the lineup: Leno; Bellerin, Luiz, Gabriel, Tierney, Ceballos, Elneny, Saka, Willian, Aubameyang, Nketiah
The major reason I am starting with this is because we saw a back three of Luiz, Gabriel, and Tierney for the first time, and a central pivot of Elneny and Ceballos. From these changes and additions, stem the reasoning for changes in tactics.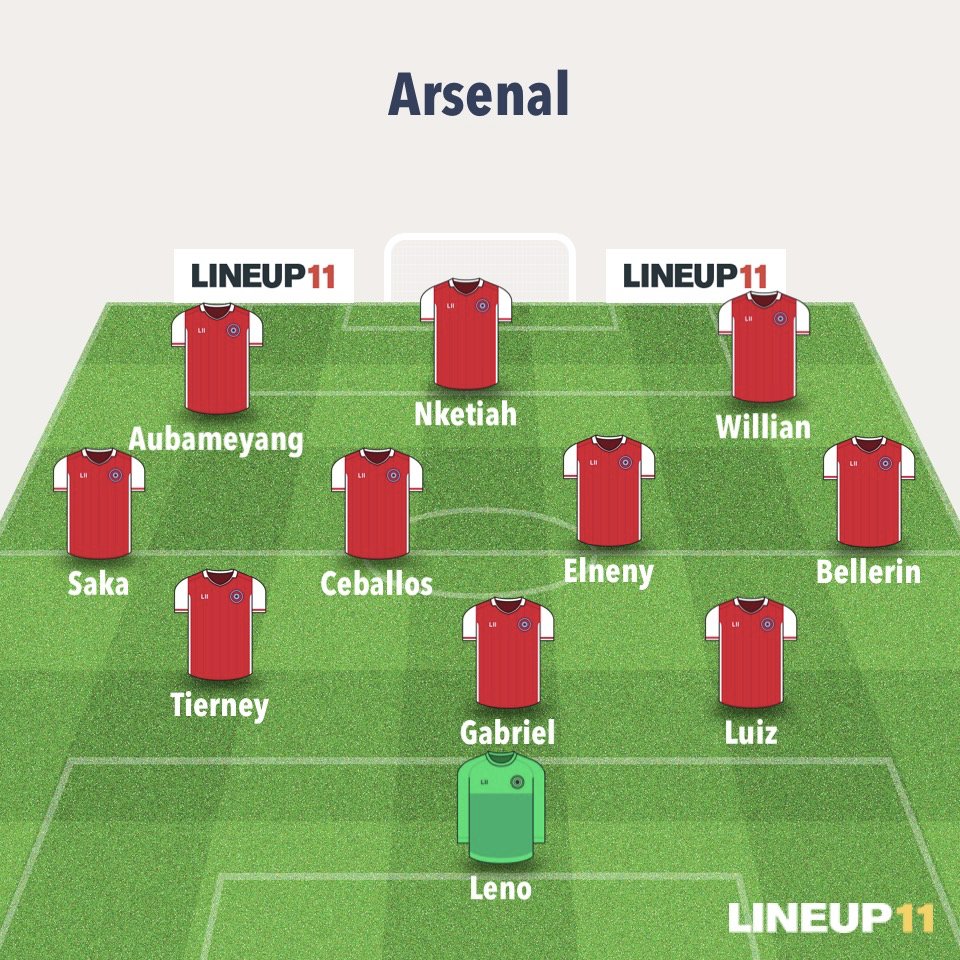 The first half was a struggle. If there was a 45-minute epitome of our attacking struggles, this was it — 0 shots in the first 28 minutes, until an Nketiah header. Possibly the best chance came when Aubameyang took a shot from about 30 yards out that did force a save, but seemed like a frustrated Aubameyang trying to use what few touches he had to make something happen. I never mind him shooting, but this demonstrated the poor attacking play and ability to truly break through.
What we could see in the first half was the intentions of Arteta's selection. It didn't come off in the but it was visible. Especially the Elneny selection over Xhaka.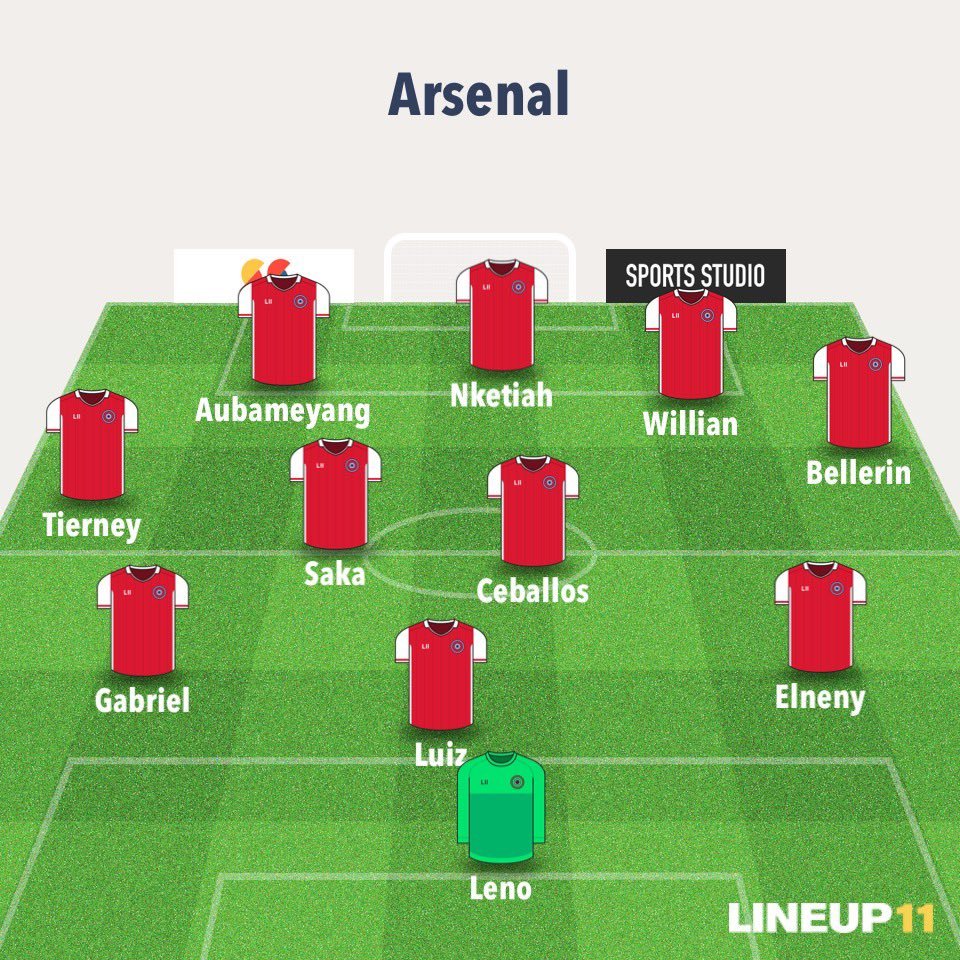 The image above is slightly exaggerated to see names, but Elneny's positioning was clearly deep right and VERY interesting. It was something Xhaka can't supply. Dropping deep to the right of Luiz and Gabriel—two players that prefer the left—to keep the balance. Ceballos held the middle, Saka tucked in, Nketiah coming deep into the midfield to try to link play and Willian or Hector Bellerin worked central while the other stayed wide. By doing this, Elneny was a relief option to keep the ball moving for Gabriel and Luiz, it allowed Saka space to come very left-center, Ceballos very deep to create a numerical overload in the back, Willian to tuck in, and still offers attack through the channels.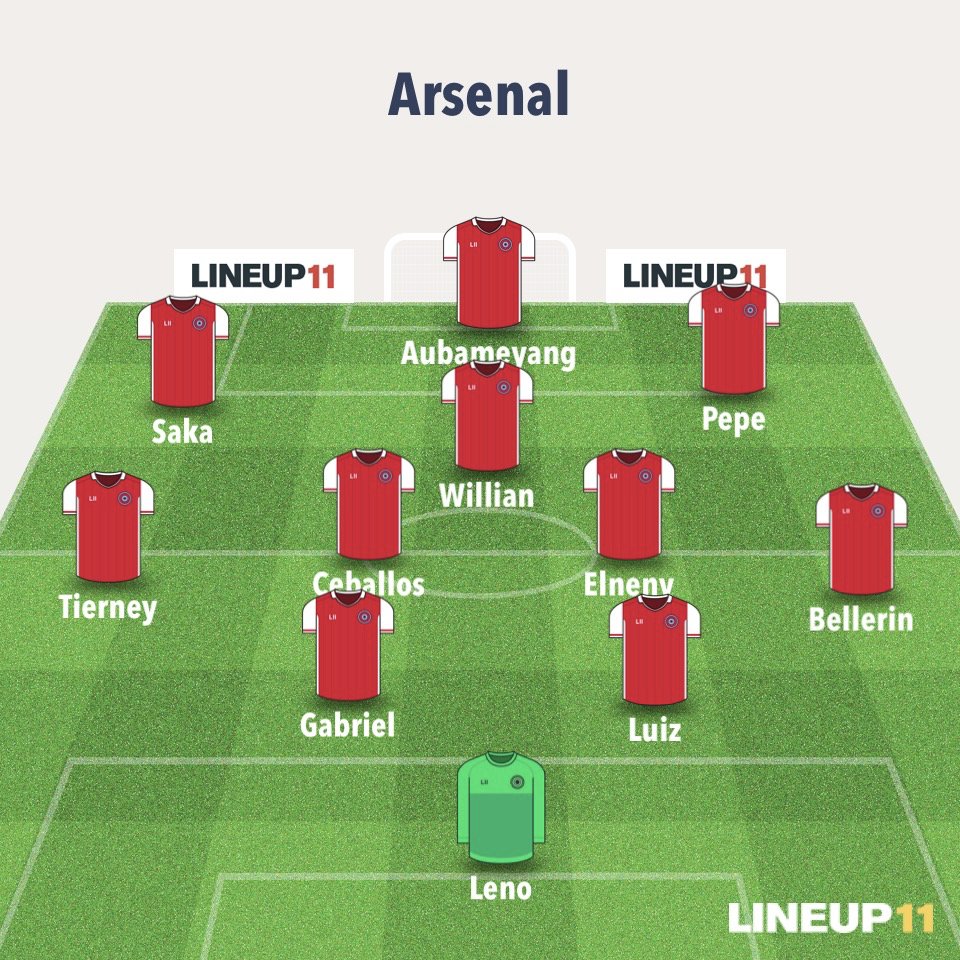 At I mentioned, this didn't explicitly work, but the 2nd half was ALL ABOUT the switch of Pepe for Eddie. This put Arsenal in a formation much more like a 4-2-3-1/4-3-3 than the 3-4-3, yet many people's roles remained the same suggesting Arteta clearly had something in mind for helping Luiz & Gabriel with their favoritism of the left and wanted to maintain much of Arsenal's core attacking structure.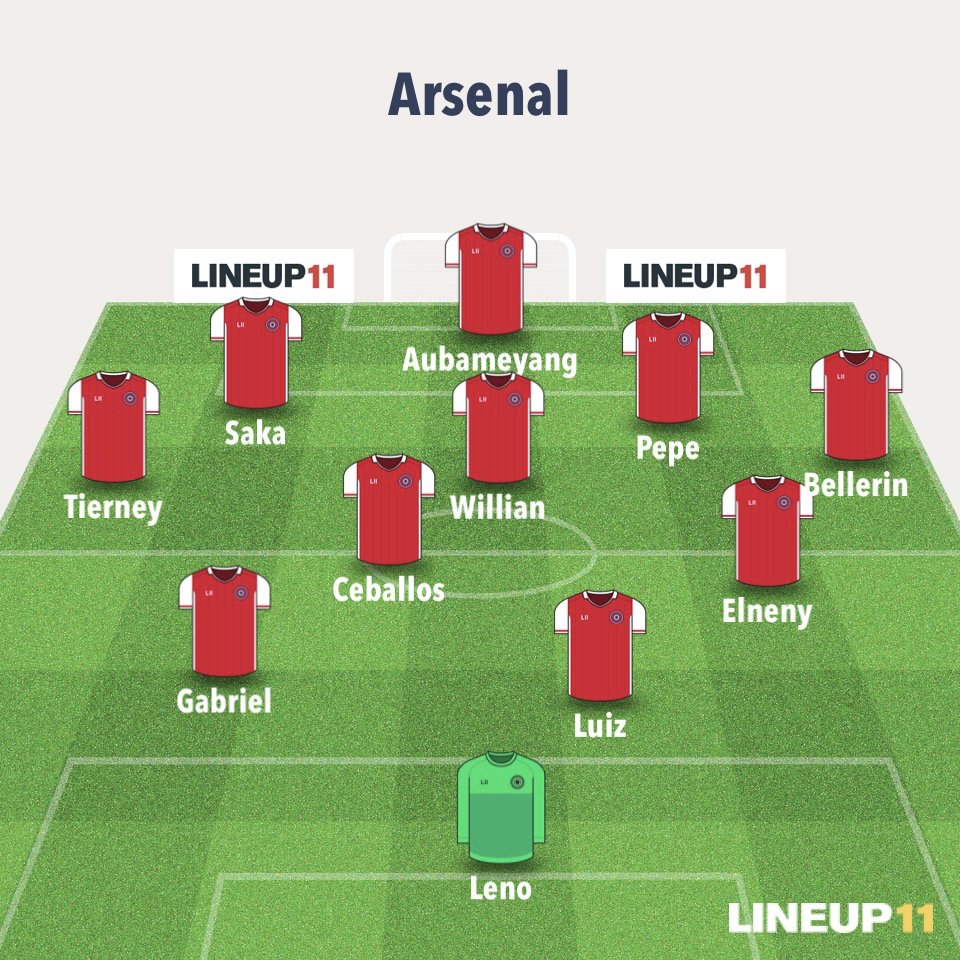 In the second half, Elneny continued to drop deep right, reminiscent of Xhaka's role early in Arteta's tenure where he would drop left to free up Saka. Elneny wasn't always quite as deep into the backline in the 2nd half as the 1st half which allowed him to help the backline while still being connected to and working with the now midfield three to produce the 2-3-5 shape Arteta is looking for.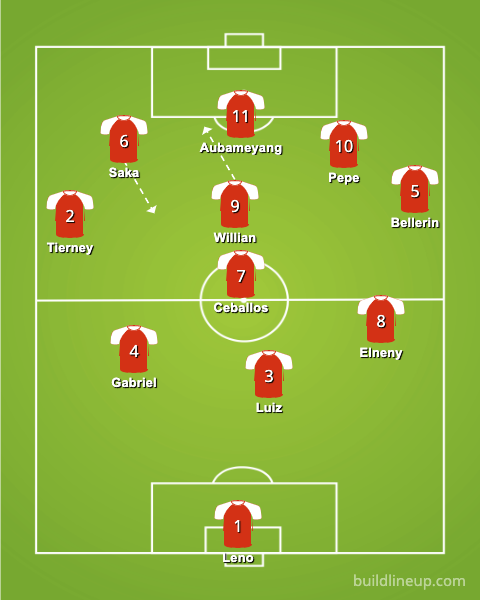 Let's talk about Willian who saw the largest shift in role. He came very central where he did look much more comfortable on the ball and in those spaces. With Pepe on the right, and Aubameyang as a central striker, it allowed Willian those attacking areas with fewer defenders on him. He seemed to occupy that number 10 spot, but also was still flexible and versatile, playing more of a left-center. He would drop deeper to pick up the ball allowing Dani to shift right and more central, as well as, exchanging with Saka on the left like the image above. Both movements making it tough for defenders to track while keeping Aubameyang on the shoulders of central defenders.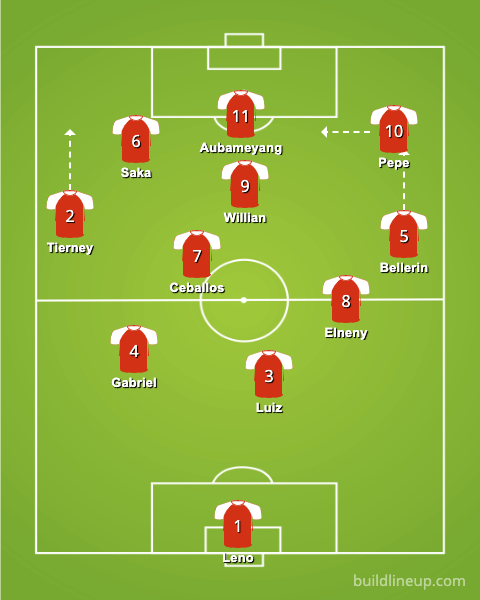 From there, much of the attack actually followed similar patterns to what we have seen. Tierney looking to overlap the left-wing and get into the attack and Bellerin looking to do the same on the right allowing Pepe the freedom to tuck central. With Elneny behind Bellerin and Pepe, the protection was still there.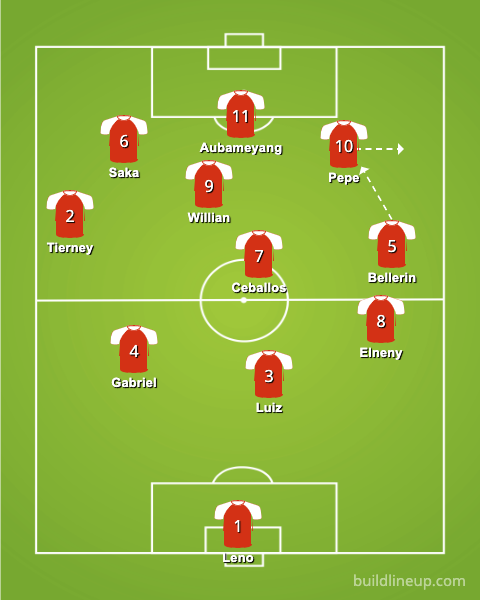 Additionally, Hector and Pepe still worked well together in deciding when was the right time for Pepe to stay wide and Hector to come central or vice versa. With Willian left-center, Sheffield was forced to occupy those spaces offering a lot of free space for Bellerin to run into and attack, which he was excellent. 2 assists, 4 created chances, 2 key passes, 2 successful dribbles, 4 interceptions, and 6 recoveries.
It's impossible to talk about this without mentioning the switch for Aubameyang. Immediately people were excited to see him central and Arteta's decison paid off. But, Auba's role was different from Lacazette and Eddie's when they play striker. With Willian in the hole, occupying that link-up space, Aubameyang didn't need to drop deep to link play. He could stay on the defense's shoulder. This allowed him to be exactly where he needed to be on Arsenals first goal, making a true center forward, slip ball in behind for Hector who stood it up on the back post for Saka to nod home.
It was this change that created enough difference to break down Sheffield and this change that won them the match. Credit where credit is due – Arsenal were very stale, Arteta made the decision and it really paid off. Whether these tactics are here to stay is still to be determined.
Alright, that was the big one. Let's do one smaller one.
Fouls
Last year, set pieces were a thorn in the side of Arsenal. They struggled immensely to deal with set pieces in dangerous areas and it became a tactics for sides to put themselves in positions that would earn themselves corner kicks, free kicks, and dead ball opportunities to create real opportunities despite struggling to create them from open play.
This tactic was deployed routinely by sides that put together strong, physical, big, and athletic squads usually associated with finishes in the low end of middle of the table. Sheffield is an example of a side that really benefits from a lot of set pieces. It's this reason that seeing Arsenal only commit 3 fouls is a huge win. 3 fouls in a match is extremely low and to not have conceded from any of those continues a trend from the Gunners that is seeing them have a lot more defensive success from dead balls.
Arsenal have yet to concede a goal from a set piece or penalty. And while it is early, in the season and that is likely to change, it's a fantastic start!