There has now been two matches with Gabriel at the center of the 3-back system, with Tierney and Kolasinac, as well as Luiz at the center for a match versus Leicester City. With Luiz healthy and Gabriel on two Man of the Match awards, Arteta has a few decisions to make.
As we saw through Kolasinac, the role Kieran Tierney plays is one that is entirely made possible because he offers an ability that no one else in the team can offer. So, how does Arsenal, in a 3-4-3, continue to progress into the attacking formations they want when other center backs enter the fold?
Lots of people talking about the potential for Luiz to be central of the back-3 with Gabriel on his preferred left side. This makes sense, but I'm very curious to see how that would change our progression. Let's look at the Fulham match as an example of better attacking. Kieran Tierney overlapped Maitland-Niles to take up a more traditional left back role and then looked to get forward and overlap Aubameyang, allowing Niles and Aubameyang to tuck centrally to be more dangerous.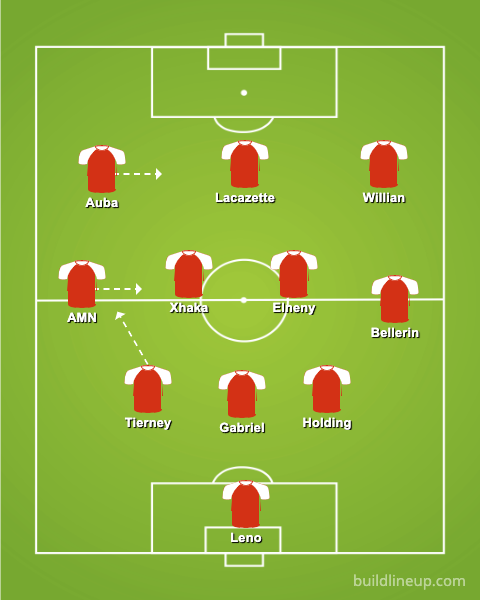 It's obviously a move that is possible with AMNs comfort in the midfield and Tierney's comfort down the left. But if we see a switch, and Gabriel takes up the LCB role, he will hardly be capable of replicating what Tierney offers which was very successful in the Community shield and versus Fulham.
Additionally, by slotting Gabriel to the left to offer more true defending stability to the back-3, it would likely result in Tierney taking up the left wingback role to keep his qualities on the field. This leaves us with a formation that looks a bit like the image below.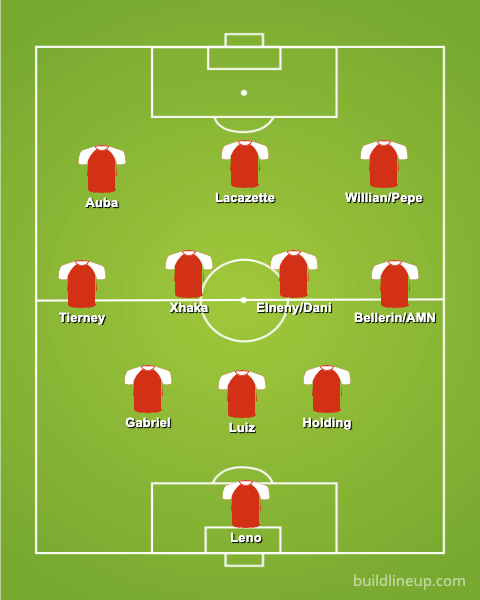 So what are Arteta's options to replicate some of that success from Fulham and the Community shield and transition to their desired 2-3-5 shape? There is a clear option, but one could question whether it puts the same attacking abilities on the pitch. Luiz is comfortable stepping up into the midfield when in a back 3, allowing Gabriel and Holding take up the same central, defensive spots they did against Fulham, forming the back two.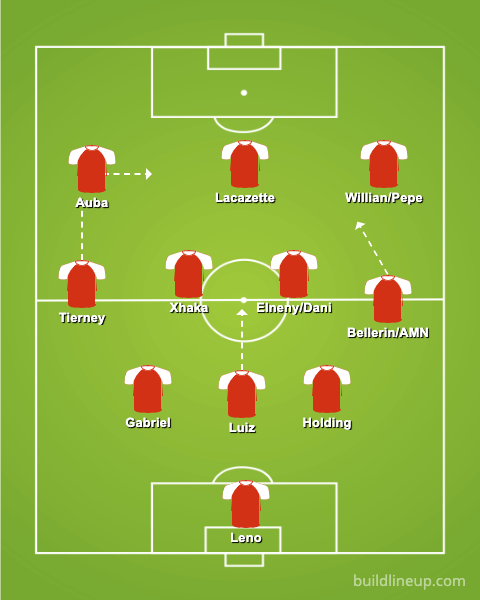 Tierney would still look to overlap Aubameyang who tucks in, and the right wingback then works with the right wing to decide who goes central and who stays wide. This forms the 2-3-5 we know Arteta wants in the attacking third. However, in this set up the midfield three is not filled with the great attacking options.
One thing Maitland-Niles and Saka offer is the ability to attack and defend as very versatile, two-way options. Removing them threatens to remove the times Arsenal put immense pressure on Fulham through sheer numbers.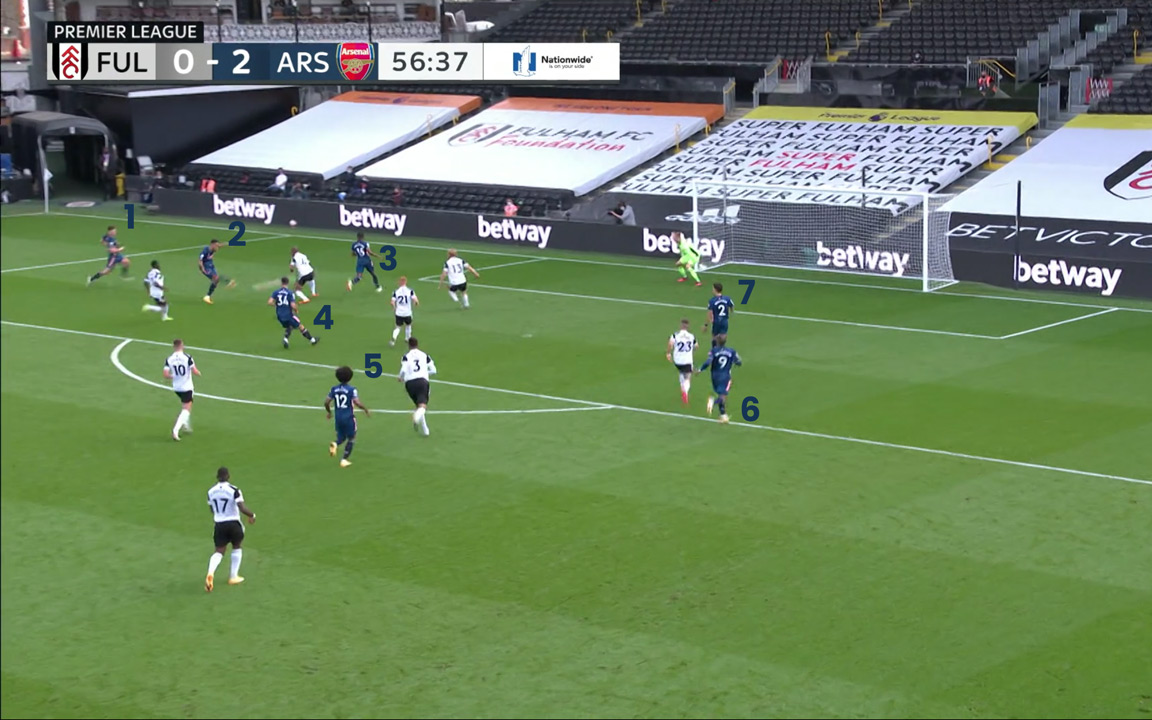 Here is a capture from Arsenal third goal against Fulham the moment Aubameyang takes on the shot. Obviously he scores, but the sheer number of options for him to pick from demonstrate the potential within this progression.
We did often see what almost looked like a 2-2-6 with Tierney on the left, Maitland-Niles very involved down the center, Willian tucked centrally to form almost a box with AMN, Xhaka, and Elneny, and Bellerin very advanced and overlapping down the right. Through numbers and intricate movement, Arsenal looked to stretch, disrupt and break the defensive shape.
As we look to future matches where Arsenal are likely to take up the 3-4-3, it becomes more likely that we see Luiz central and Gabriel to his left. Getting numbers into the attack and offering specific players like Willian or Pepe freedom to break down rigid defenses will be crucial.
If this is something we see in upcoming matches before a more complete midfield is bought, what might it all look like? For me this is one reason Ceballos may get the nod. He is more attacking by nature than Elneny, but if he doesnt Xhaka will see his role expand in a large way.
There are 3 patterns of progression I can foresee (Although Arteta may have many more)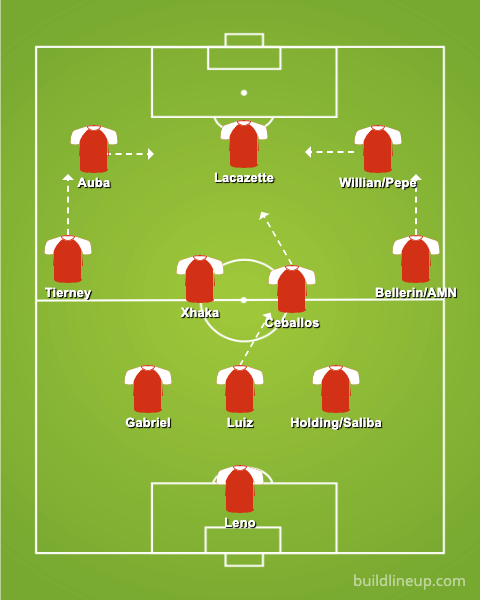 Progression 1) Luiz steps up, Ceballos slightly more into the attack to offer his passing while still acting as a first shield should Arsenal lose the ball, outside backs overlap on the wings, and the right winger comes central mirroring Aubameyang. Versus Fulham we saw Lacazette shift to his right to make room for Aubameyang to come more central from the left and Willian dropped a bit into the midfield. This creates the box 2-2 between the backline and the midfield, while that front 5 with Ceballos look to break things down.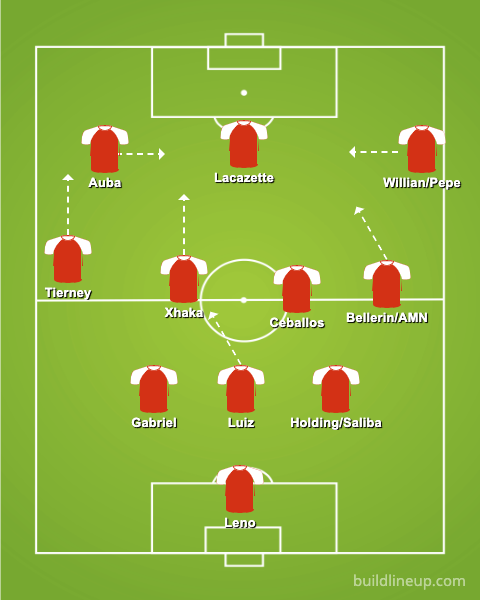 Progression 2) Similar to 1, but we see the right wing stay wide allowing the right wingback to come central and fill that space, while a more attacking Xhaka gets forward. Versus Fulham he had 2 shots and was much more involved around the top of the box. It was his shot that wound up at Willians feet before Lacazette eventually scored it. Number 2 is something we would see more of if Elneny is central with Granit, simply because Granit offers more attacking value. Here Gabriel and Holding again pinch and sit forming the 2-2 box with the while Ceballos or Elneny and Luiz offer options to recycle play.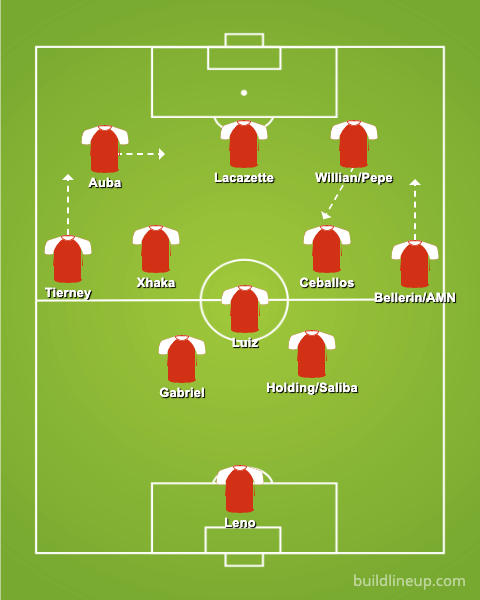 Progression 3) Would see the midfield and backline become almost a 2-1-2. Luiz more advanced, Gabriel and Holding pinched tight, and Dani/Elneny and Xhaka a little more advanced but probing to recycle and maintain possession. The key to this would be Willian coming very central to play in that space usually occupied by a traditional number 10. The wingbacks would overlap, and Dani and Xhaka would seesaw forward and back depending on where the ball was to offer the extra number while maintaining defensive shape and creating the 2-3-4 with Luiz.
In all of these, it would enable Luiz to step into the midfield and still result in Arsenal transitioning into their preferred attacking 2-3-5, 2-2-6 formation to provide balance and give Willian lots of roaming freedom.
As we saw against Fulham, success comes from the seamless ability to move into these shapes in a dynamic, unpredictable way. People will figure out what Arsenal and Arteta want to do, but shutting it down and preventing needs to become whole other task.
There are other formation options, for instance Tierney not being present to allow Saka to be the attacking force as he was against Leicester, or Arteta may feel incapable of removing Tierney from the left center back role until there is a monumental shift to a 4-back. IN bother of those cases, the progression would look quite different, but having the sturdy play of Luiz, Gabriel, and Holding – or eventually Saliba – is very enticing. Looking forward to seeing whats next with their attacking play!