The season has yet to kick off a single match and there is a small feeling in the air already that Arsenal can't catch a break. This morning it was announced that David Luiz was a major injury concern for Arteta and Arsenal.
Ornstein and The Athletic report that Luiz complained of serious neck pain in recent days, and a video emerged of Arsenal's training session in which Luiz was visibly not a participant.
While it is unknown how long Luiz will be absent, there is speculation that it could be up to six weeks which would put him returning for the Leicester City league game at the earliest. This would mean missing the opening 6 games, including Arsenal's third round clash with Leicester City, a Premier League matches against Liverpool and Manchester City.
While Ornstein has said that Arteta had intentions of keeping Holding regardless of this injury, it is tough to imagine this injury did not play some sort of motivating role in preventing him from going to Newcastle – a move that seemed imminent.
Where do we go from here?
With the removal of Luiz from the backline, Arsenal are also removing their most senior presence leaving Arteta in a tough spot. While Arsenal fans hope Gabriel and Saliba are the future of the backline, exposing them too early to suffer early struggles, without the support of someone like Luiz, could be a setback to their confidence and overall growth.
It always seemed as though Arsenal would look to start in 3-back system that was anchored by David Luiz, but this feels like it nearly ends the debate. An image posted by Gabriel himself thanking Luiz for helping him clearly shows 3 circles between them and it's fair to imagine they are discussing defensive tactics revolving around that 3-back system. But if Luiz isn't an option, Arteta is going to be forced into making changes or throwing his two new young defenders right into the fire.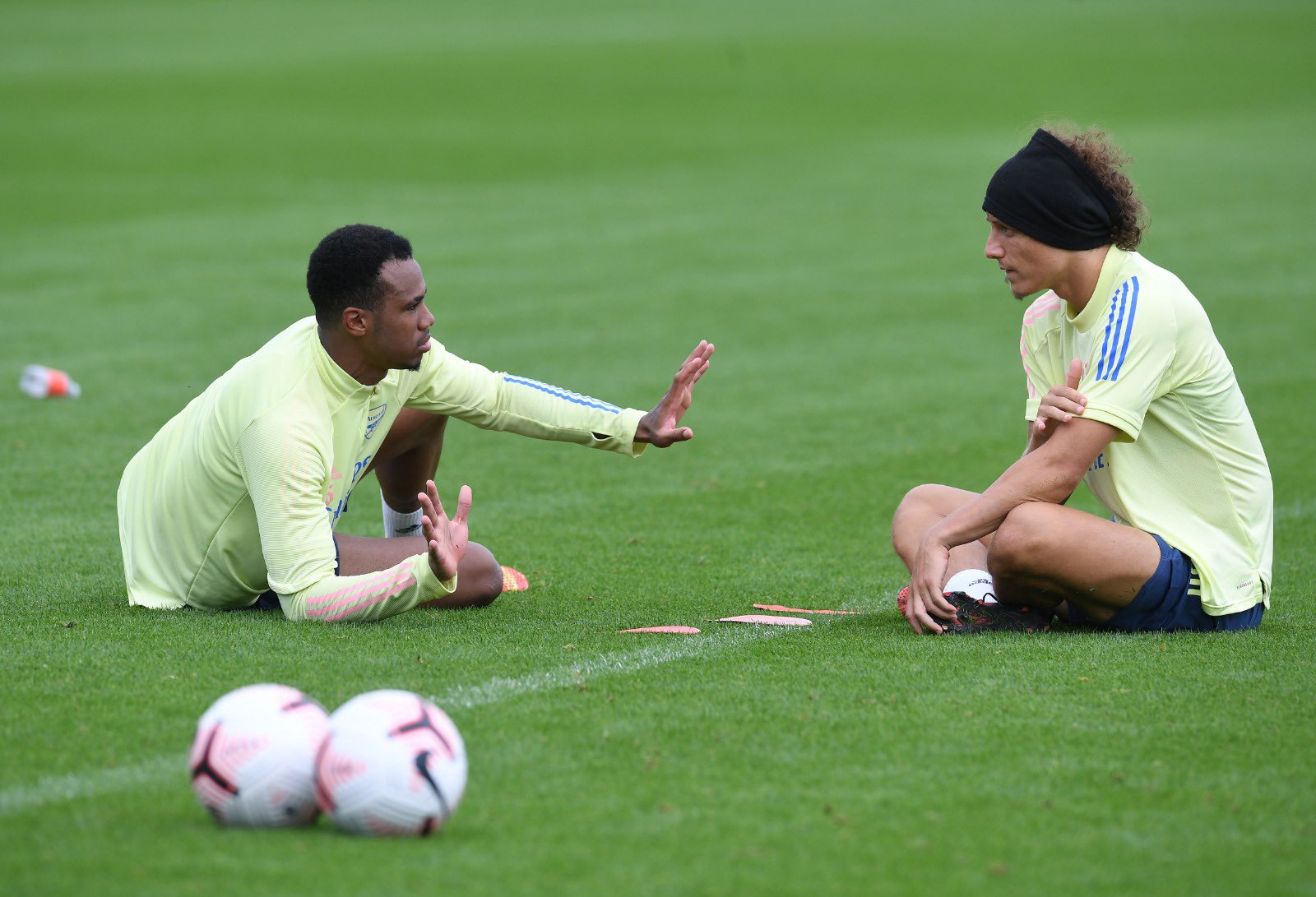 The safest option feels as though it would be to slide a young, but slightly more senior defender into the center by putting Rob Holding there. Arteta would add to the composure by having Tierney play on the left and Saliba on the right. While there are questions around Bellerin's future, if he is on the Arsenal team, it's not difficult to see him being the type of player that would still play amidst transfer speculations.
I think it's fair to imagine that keeping Saliba and Gabriel out of the same lineup is in Arteta's interests to start off, but only Mikel will know how ready for the Premier League these two already are.
If Arteta is looking to be very bold, he could play Gabriel and Saliba next to each other with Tierney on the left to maintain the strong, left-sided chemistry that exists within the team.
A third option could see Gabriel swapping places with Luiz while maintaining the FA Cup backline we saw against Liverpool. This would explain why Gabriel was working so intently with Luiz to understand how the back three worked within Arteta's system.
Finally, we have an option that would see both Gabriel and Saliba on opposite sides of Holding. It would displace Maitland-Niles from the left wingback role in favor of Tierney, but put him back on the right, given he seems less likely to leave this window than Bellerin.
To be honest, there are more than a handful of options to consider outside of the backline, but we will keep our focus on the backline. For instance, I have put Leno in as keeper for all of these despite the fact that Emi could very well get the start.
What I feel confident about is that we will see a 3-4-3 formation that contains Xhaka and Ceballos sitting in front of the backline in order to restore some semblance of the side that played in the FA Cup final just over a month ago.
Missing Luiz will inevitably hurt in the short term. If looking for a silver lining, his absence may be a catalyst to seeing Gabriel and Saliba form a solid partnership earlier in the season, but it was well known that Luiz was set to play a pivotal role in their development on and off the field. While he still will certainly be present off the field, his guidance could be missed early in the season on match day.
A fast and steady start would go a long way for capitalizing on last year's late-season success. A slow start would be frustrating as Arsenal are looking to still make the most of their remaining time in the transfer window. Getting all 3 points this weekend and again against West Ham is something that could be looked back on as very beneficial later in the season.
Leave me a comment on the article, on social media, or if you liked the piece – subscribe to get notifications whenever I publish pieces.